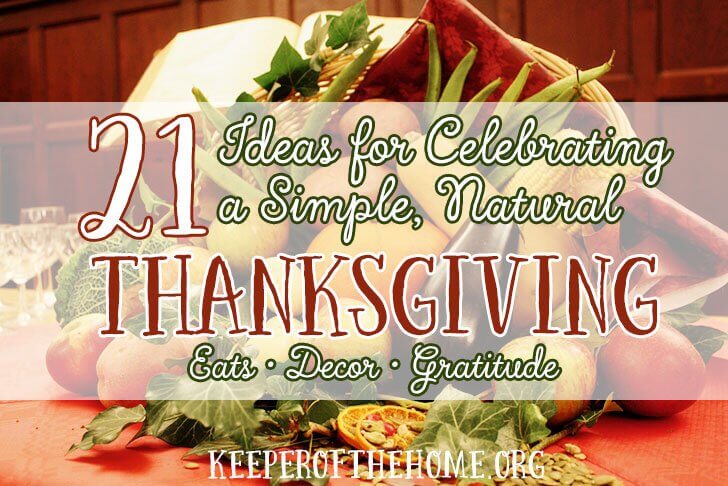 I have to confess something… I will not be celebrating Thanksgiving this week. That's because as a Canadian, that day came and went back in October! But I know that for most of you, Thanksgiving is your focus this week and so I wanted to share some ideas and inspiration with you.
I had far too much fun putting together this selection of tasty-looking real food holiday recipes, frugal and nature-inspired decor ideas, and gratitude printables and activities for you.
This is only a small portion of all that I found, and if you'd like, you can peruse my entire Thanksgiving folder on Pinterest.
Healthy, Whole Food Thanksgiving Recipes
Butternut Squash Gratin with Blue Cheese and Sage (just use whole grain bread and butter your pan instead of using spray)
Green-Cabbage and Red-Apple Slaw with Brussel Sprouts
Cranberry-Pomegranate Sauce (from the Pioneer Woman- everything she makes is amazing)
What a unique and tasty looking salad! Love the apple presentation! Apples, avocado, blue cheese (an accidental theme), and pomegranates (a delicious and healthy, but also accidental theme).
Herb Stuffing- a simple but tasty looking variation.
Cajun Corn Maque Choux- this creative and distinct salad sounds delicious and looks so colorful!
Beautiful, Frugal, Nature-Inspired Holiday Decor
Spending money on fancy decor items just isn't necessary. When you work with elements from outdoors, the garden or market, or even your own pantry, together with items you may already have and some creativity, the possibilities are endless.