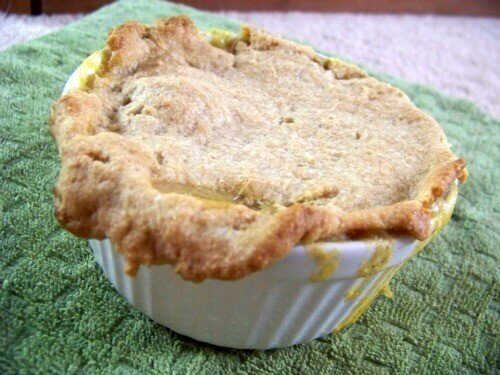 Written by Mindy, Contributing Writer
I have always loved making pastries. Pie crusts, biscuits, and tarts are some of my favorite things to make in the kitchen.  The problem is that I usually prefer these things made with unbleached white flour over whole wheat!  And it is true that they do take a little bit of time and experience to make them properly.
That is why I love this recipe for yogurt dough.  It's quick and easy to make, and it is delicious made with whole wheat flour.  On top of that, it is extremely versatile as well.  It can be used in almost any way that you like.
Use it anywhere you would use a pie crust or crescent roll dough.  I love using it to top my homemade pot pie filling.  You can also make pockets out of it to hold any kind of filling, sweet or savory.  Really the possibilities are endless.  You can even try making homemade pop tarts out of it!
Since this dough is so versatile, it's a great way to use up leftovers or those random items that you have hanging out in your pantry or fridge.  Everything is delicious when you cover it, wrap it, or put it on a flaky, buttery dough!
Whole Wheat Yogurt Dough
Lightly adapted from [url href="http://www.amazon.com/gp/product/0967089735/ref=as_li_ss_tl?ie=UTF8&tag=keeofthehom-20&linkCode=as2&camp=1789&creative=390957&creativeASIN=0967089735″ target="_blank" rel="nofollow"]Nourishing Traditions[/url]
Ingredients
1 cup [url href="https://www.keeperofthehome.org/2011/04/good-fats-bad-fats-and-why-i-eat-plenty-of-butter.html" target="_blank"]butter[/url], softened
1 cup plain [url href="https://www.keeperofthehome.org/2011/04/making-homemade-yogurt-2.html" target="_blank"]yogurt[/url] (I've used kefir before too)
3 1/2 cups whole wheat pastry flour (also good with spelt)
1 tsp fine [url href="http://www.amazon.com/gp/product/B000SWTKV0/ref=as_li_qf_sp_asin_il_tl?ie=UTF8&camp=1789&creative=9325&creativeASIN=B000SWTKV0&linkCode=as2&tag=keeofthehom-20&linkId=2NFTZ4CEKPYPWTQW" target="_blank" rel="nofollow"]sea salt[/url]
Instructions
Cream together the butter and yogurt (or kefir). Slowly add the flour and salt until everything is combined into a nice dough.
At this point you can either use it immediately or leave it on the counter for 12-24 hours to soak.
When you are ready to use it, roll out the desired amount on a floured surface and use as desired.
Depending on what you are using the dough for, it usually takes around 30 minutes to bake at 350 degrees. Adjust your baking temperature and time for what you are making.
Notes
If you put this in the refrigerator to roll out later, it will have to return to room temperature before the dough is workable. It is hard as a rock when it first comes out of the fridge.
How would you use this versatile dough in your kitchen?