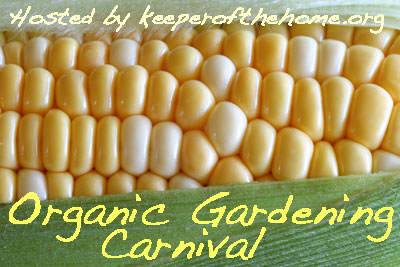 It's time again for the Annual Organic Gardening Carnival!
About this time last year, I realized just how helpful it might to be able to purposefully reflect on the past gardening season, write down our observations and lessons learned and then share them with one another. For more about the vision of the carnival, see what I wrote last year (and just ignore the dates because they're slightly different this year).
I would love to make the carnival much bigger than last year, with more people sharing about their gardening experience! Whether you garden on 1/2 an acre with your 8 children or in boxes on your apartment patio with your toddler, anything you have to contribute would be valuable. We all have unique experiences and skills, and each perspective adds something valuable!
And please, don't be intimidated by the fact that it's called the "organic" gardening carnival. I know that many of you are in the process of learning to garden more organically and naturally, and most of us don't do it perfectly by any means. I just want to avoid things like tips on which commercial insecticide to use, for example, and focus instead on the more natural ways that we can tend to our gardens and deal with the issues that arise (bugs, mildew, blight, challenging weather, fertilizing, etc.).
How to get ready for the carnival:
1) Take some time to reflect on what you did this year, what went well (and what didn't go so well), what you tried, what you learned, what you'd do differently next time, which varieties of plants and seeds you used (and what you thought of them), etc.
2) Put together a blog post detailing your thoughts on this past year of gardening. For some ideas, you can check out my post from last year (and please know that mine was particularly long, and yours doesn't need to be nearly so detailed!).
3) Be ready to get your post up on Wednesday, November 5, and then come by and leave me a comment with your post url to join in!
(And just to let you know, last year's carnival unfortunately know
longer shows the links of participating bloggers, due to Mr. Linky
issues. For the simple reason that Mr. Linky does have issues like
this, and also because I would rather give your sites a genuine link
that is recognized by google, I will be posting up each entry manually.)
That's it! I'm really looking forward to it! Are you with me?