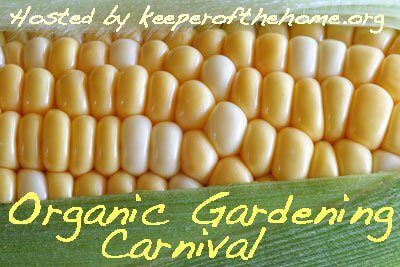 I know of very few gardeners for whom everything comes easily. Certainly it didn't for me. Gardening, though something I've become passionate about and have learned to truly love, has required a lot of work, study, experimentation (and yes, both failure and success), and learning from others.
I don't think I'm alone in that. For most of us, we grow in our gardening skills the longer we garden, making mistakes and learning from them. Year after year, I learn a little bit more as I try new things and discuss what I am doing with those other brave souls who love to get their hands dirty as I do.
I started this carnival last year in the hopes that we could further our own learning by sharing with one another our unique experiences. We all have somewhat different (or very different) gardening situations– climates, garden size, budget, age and number of family members, vegetable preferences, types of pests or problems, etc. No two gardens (or gardeners) are the same. And yet, the principles of gardening don't change. Love and pamper your soil. Grow what you eat. Tend to it faithfully. Rotate your crops. Enjoy the process.
I value having to write down my observations from each year. It creates a record for me of how the year went, what I was happy (and not so happy) with, when I did what, what I won't try again, what little techniques worked. I've often gone back to my post from last year, to be reminded of what I grew, or when, or what was the problem I had with such-and-such. I also highly valued being able to read the observations of others, to see photos of their gardens, to learn what they were learning.
(Sadly, last year's posts have all disappeared from the Mr. Linky for some unknown reason, otherwise I would link to it for you. This year that won't happen again as I will be adding each and every entry to this post myself)
So ladies (and hey, men if you're reading this!), let's share about this past year of gardening! I'm eager to read your posts! 🙂
How it works:
1) Write your post with an overview and/or details of your garden this past year and publish it on your blog (for more ideas on what to write about, see this post and see my post from last year– and note that yours doesn't have to be nearly so long!).
2) Come back here and leave a comment with your post url, and a very brief (1 sentence) description of what your post is about.
3) I'll go through the comments as often as I can and get your link added to this post!
4) If you're not a blogger, we would love, love, love to have your thoughts in the comment section! Please share with us anyways!
Let the carnival begin:
Reflections on Another Year of Gardening @ Keeper of the Home
How I felt about gardening while very pregnant and with a newborn, new things I tried and loved, a new method that works for me, and my overall thoughts on my 3rd year of organic gardening!
Organic Garden Carnival @ One Blessed Mama of Boys
My post is a quick what I learned this year in my garden with a few pictures.
Reflections On My Garden @ Tales of a Perfectionist
My post is the reflection and lessons learned from a first year gardener.
Organic Gardening Carnival Reflection @ Modern Alternative Mama
Experimenting with Growing Food Indoors @ Nourishing Days
My post is about my experimentations with growing food indoors this winter.
Gardening Year in Review 2009 @ Home Joys
Our seventh year of gardening was an exciting time to try new things, including a great tomato, a children's garden, and new compost pile!
Looking back at the garden @ Proverbs 31 Living
Even through neglect and cold weather, God blessed abundantly!
Garden Journal 2009 @ Joy Comes From Within
A quick look at my last 3 year of gardening. This year has proved to be the best!
You're next!!!