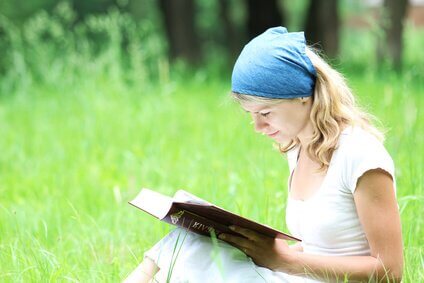 By Natalie, Contributing Writer
We talk a lot on Keeper of the Home about how to be good stewards of the bodies God gave us by feeding them real food that nourishes. But how zealous are we in feeding our spirits with real food? 
Real Food vs. Junk Food
The Creator made us as integrated whole human beings with bodies, minds, and spirits, and He graciously provided us with all we need to be healthy. For our spirits He gives us direct access to His objective words through His gift of the Bible.
We don't have to figure out life for ourselves and come up with as many different opinions as there are people in the world. God already has it figured out for us. Since He's pretty wise, we can trust Him.
Jesus said to them, "I am the bread of life; whoever comes to me shall not hunger, and whoever believes in me shall never thirst." (John 6:35)

Do not work for the food that perishes, but for the food that endures to eternal life, which the Son of Man will give to you. For on him God the Father has set his seal. (John 6:27)

But he answered, "It is written, "'Man shall not live by bread alone, but by every word that comes from the mouth of God.'" (Matthew 4:4)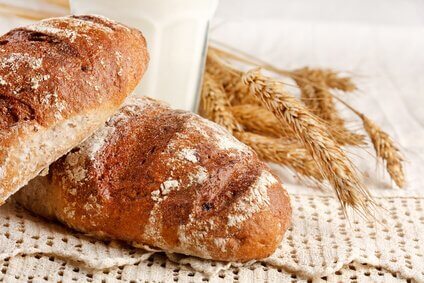 The Word of God is the only REAL food for our soul. It comes directly from the source. It is organic. It is pure. "The words of the Lord are pure words, like silver refined in a furnace on the ground, purified seven times." (Proverbs 30:5)
But we like junk food, don't we?
The greasy, artificial colors and flavors are of the enemy and his lies. Junk food is cheap and readily available everywhere we turn. It's on our TVs, in our books and magazines, on our computers, in the malls, on the billboards, in our schools, and on our radios. And we're silly, sinful little Wemmicks. We crave it.
Junk food appeals to all our senses, and it temporarily satisfies us. But the fix soon wears off, and we end up reaping the short term consequences of sluggishness, heartaches, distraction, and self-focus—as well as the long term consequences of bitterness, sorrow, and lack of purpose in life. It's never worth it, but still, we struggle with its alluring temptation.
The only truly satisfying food for our spirits is the Lord, Himself. Just like we need to adjust our taste for wholesome foods, we need to adjust our spiritual cravings as well. "Oh, taste and see that the Lord is good!" (Psalm 34:8) "The afflicted shall eat and be satisfied; those who seek him shall praise the Lord!" (Psalm 22:26)
Supplements
God's Word is our meat and potatoes. But we can also benefit from supplements that help fill in the cracks of our understanding and wisdom. God has provided us with one another—the body of Christ—to encourage, comfort, and build us up in strength. I like to think of books, music, visual media, and blogs as supplements, too.
What kind of supplements are you taking in?
Are they merely fillers? Artificial and shallow? Or do they augment what God is teaching you through His Word? Do they encourage you to admire and pursue temporary pleasures and the stroking of your vanity— or do they spur you on to running hard after God with all your heart, soul, mind, and strength?
"If we consider the unblushing promises of reward and the staggering nature of the rewards promised in the Gospels, it would seem that Our Lord finds our desires not too strong, but too weak. We are half-hearted creatures, fooling about with drink and sex and ambition when infinite joy is offered to us, like an ignorant child who wants to go on making mud pies in a slum because he cannot imagine what is meant by the offer of a holiday at the sea. We are far too easily pleased." C.S Lewis, The Weight of Glory

Medicines
When life goes sour—and it does—what do you turn to to alleviate your suffering? Do you trust man-made, quick fixes and your own sensibilities to guide you toward restored spiritual health? Or do you turn to the Master Physician to heal your spirit? He knows exactly what you need. And when you need it.
He doesn't always work on our time table because He has a greater purpose in mind that will ultimately work for our good—and His glory. Sometimes He has to perform major heart surgery to bring us into a deeper sense of wholeness and spiritual health. His goal is our joy and peace. He knows that will only be achieved when we have surrendered everything to Him.
Milk vs. Meat
Mama's milk is the perfect food—for a baby. But would that same child be healthy and strong if, at age 10, he was still relying on milk alone to meet his nutritional needs?
"But I, brothers, could not address you as spiritual people, but as people of the flesh, as infants in Christ. I fed you with milk, not solid food, for you were not ready for it. And even now you are not yet ready, for you are still of the flesh. For while there is jealousy and strife among you, are you not of the flesh and behaving only in a human way?" (I Corinthians 3:1-2)

For though by this time you ought to be teachers, you need someone to teach you again the basic principles of the oracles of God. You need milk, not solid food, for everyone who lives on milk is unskilled in the word of righteousness, since he is a child. But solid food is for the mature, for those who have their powers of discernment trained by constant practice to distinguish good from evil. (Hebrews 5:12-14)
As we build our relationship with Christ, spending time with Him in His Word and in prayer, immersing ourselves in Truth, embracing grace, and striving to walk in obedience, we will GROW strong and healthy!
Our character will develop. God will start smoothing out some of those rough edges. Our love and concern for others will increase. Love, joy, peace, patience, kindness, goodness, gentleness and faithfulness will be evident in varying degrees.
Milk has its role in your life, but don't spend a lifetime living on it.
May God give us the power, discipline, and self-control to pursue the wholesome goodness and realness of Himself. Only then will we be able to fulfill the purpose for which He created us: to turn around and feed others—and to bring Him glory.
What do you do to help keep your family spiritually well fed?