By Contributing Writer, Brandy Ferguson
As a homeschooling mom of seven, and now getting ready to meet our eighth son in a matter of days, I've never been busier in my life!
With so much on my to-do list added to my already full schedule, I admit to having moments of brief panic in which I think to myself, "what if I don't get it all done before I go into labor?" or…"what if the boys' rooms look like THAT when the baby arrives!?!"  or…"what if I don't get the freezer filled with homemade food in time?"
I have to stop myself, almost on a daily basis and just…
breathe.
Because while I do have a lot that I would like to have accomplished, things that would definitely be a blessing to me and my family, the reality is that it is going to be okay.  Most likely, I'll carry this baby all the way to 40 weeks PLUS like I usually do, which means I still have three more weeks to achieve my goals, but if the baby comes earlier and I don't get to all these tasks, then it's alright.
I don't know about you, but the nesting thing is a very, very real and intense thing that I experience toward the end of pregnancy.  Mother Bird knows her Baby is about to hatch and that nest must be pristine and perfect.  It must, at all costs, be in order.  No clutter, nothing in disarray, all rooms organized and ready.
Sometimes it becomes an internal battle of sorts, as a mom of a large family.  Because the order in my head doesn't always match what I see around me.  Sometimes I forget that not everyone in our family, especially my brood of all boys, is in super-nesting-mode like me.  Sometimes I see the mess around me or the list that still has things to do on it and I start to lose perspective.  And I have to remind myself again….It's going to be okay.  Breathe.
Because, first of all, it's not like the baby's going to care. (Of course, I still will.)  And second, it's not fair to my family for me to be stressed out about something that's pretty silly in the grand scheme of things.  And most importantly, if there's ever a time to make sure my children feel loved and special, it's right before they're about to meet another new sibling.
Now having said all that, I will still try to prioritize and enlist help from my family to accomplish a few very key things like:
sorting and washing newborn clothes, socks, baby blankets
taking apart the infant carseat, washing, and reassembling
making sure extra sheets and towels are clean and ready for our homebirth
cooking and freezing as many meals ahead of time as possible
And after those things are done, if we are still waiting for our sweet bundle to arrive, I'll tackle more of those organization projects that seem so important to me right now. Those projects include purging the boys' rooms and closets, reorganizing the schoolroom, and cleaning out the toy boxes.  It would be nice to get to the coat closet and master closet, too, but I'm trying to be realistic here.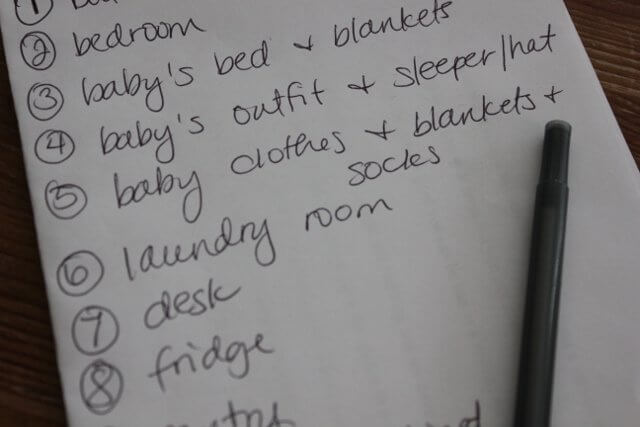 In the meantime, staying focused on getting rest and good nutrition as I try and prepare my  mind and body for birth is still a top priority.  I started taking my Alfalfa, Red Raspberry Leaf, and Evening Primrose capsules today in preparation for labor and delivery.
This is such a sweet, special season, these final weeks of carrying my baby, a time for really slowing down, looking around me at what I've already been blessed with, and savor it all the more.  There really is no need to stress about "the list" or "the mess" or anything else.
Because all that will matter in just a few short days or weeks is going to be that we're all here.  All ten of us.  Together.
Who cares about the list?
What about you?  Do you experience nesting at the end of pregnancy?