Today's guest post is by my real life friend, Melanie. When she asked me about writing this topic, I didn't completely get the concept, but I trust Mel and knew that it would be good. It is! I relate to this more than I thought I would, and the suggestions make so much sense! I know, this isn't a blog about organization per se, but let's face it… busy mamas need to be organized! Enjoy!
*******
Guest Post by Melanie Dreyer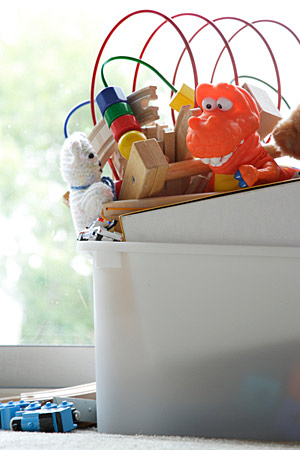 Once I arrived at work on time and my boss asked me if everything was ok.  I quit borrowing books from the library years ago when I realized my money was better spent on buying books than on late fees.  I own a dozen white shirts, at least as many black shirts and I have four dozen cans of tomatoes in my pantry all because I'm too distracted while shopping to remember what I already have.  I like the idea of using coupons but actually remembering to put them in my purse is another thing and if they've made it that far I usually forget to take them out upon payment.  My keys now have a visible home where I hang them but before that I would spend up to half and hour looking for where I left them: my jacket pocket – but which jacket? my purse? the counter? the table in the foyer? the diaper bag?
You get the picture.  I have some organizational issues.  Can you relate?  If so "ADD-Friendly Ways to Organize Your Life
" by Judith Kolberg and Kathleen Nadeau, PH.D may prove to be very helpful.
The title is unfortunate because until recently, when researching some learning difficulties my children have, I would not have identified myself as ADD or thought this book would apply to me.  Attention Deficit Disorder is really a set of symptoms that have an assortment of underlying causes that I won't get into here.  In my case one of the predominant reasons for my ADD tendencies is that I am right brained.  As a visual learner who thinks in pictures I need to see the big picture in order to get a concept; following sequential steps or learning in increments is difficult for me.  Thus, many of the books on organization out there have proven difficult to follow because they are geared towards to the left-brained thinker and learner – or the more naturally organized person.  Right-Brained Ways to Organize or Organization for the Visual Learner might be better titles.
The book deals with some key issues that I could immediately relate to: the reality that if something is out of sight, it's out of mind, the need to see the big picture first (macro-focus) and the uncanny ability to get lost in the finite details, (micro-focus).  A spare-room, home-office or garage that has become the household dumping ground can be overwhelming because it is difficult to see beyond the whole mess or cleaning the bathroom, which should take 20 minutes, ends up taking two hours because of over-focusing on cleaning the grout lines with a toothbrush.  Other difficulties are becoming easily distracted, moving from one task to another without finishing any of them and boredom – the need for stimulation in order to engage in a task.
Some of the solutions provided in the book left me wondering why I hadn't thought of it, they are so simple.  Other solutions are ingenious.  For example, one way to combat "OosOom" (out of sight, out of mind) is to use clear storage bins where the contents can easily be seen.  This helps contain the clutter, while providing the visual cues needed for memory's sake.  Also, place baskets near the doorway (a classic gathering place for clutter) labelled "In" and "Out".  One basket is the place to put incoming items; the other is for outbound items.  Outbound items can be moved to a bin in the car, inbound items can be put away when the basket gets full.
Another helpful hint was to use what the authors call a "stubby to-do" list.  They recommend using a bright sticky note and listing your top priorities for the day in large print using verbs such as: bake cake, get groceries, pick-up dry-cleaning, drop off library books.  It is important to list no more than five items otherwise you run the risk of being overwhelmed and to place the list in a place where you will be easily reminded of what needs to be done that day.
The authors suggest using a timer or alarm clock to help combat loosing track of time, especially for activities that can cause you to micro-focus such as surfing the internet.  Analogue clocks are recommended over digital clocks since they provide a visual cue of the time passing.
Other ideas for tackling large organizing tasks like the garage or a child's bedroom is to get creative: turn the garage into a hardware store or the child's bedroom into a toy store and organize according to the departments found in those stores.  This can provide motivation to work on these tasks and provide categories for sorting through the overwhelming clutter.
The book addresses key organizational issues in separate sections:  Things, Time, and Paper.  They also provide tips on prioritizing, combating boredom, simplifying, plenty-of-time thinking, night-owl tendencies, skim reading and setting up a support system.  This book has proven invaluable to me and I highly recommend it to anyone who can relate to my organizational struggles or needs some creative ways to help a chronically disorganized family member.
Do you relate to these organizational struggles? What things do you to overcome them?
Melanie Dreyer is a homeschooling mom of four children ages 8, 6, 3 and 21 months and resides in the interior of British Columbia.  She has a blog called "Met With Perfect Pleasure" where she writes about motherhood, biblical womanhood, the Gospel and anything else that interests her.