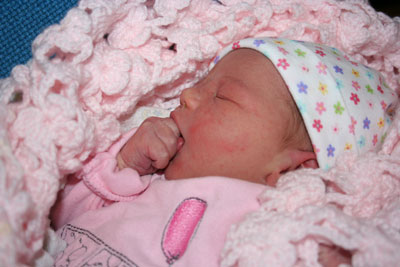 Johanna Providence
7 lbs 10 oz, 21 inches long
 Wednesday, August 12 at 5:22pm
Johanna means "God is gracious", which we have just been feeling in abundance lately, as we marvel over His goodness in our lives. We also felt that this gentle, feminine name really suited her, with her very delicate and sweet demeanor. We chose Providence in light of the fact that we've been learning more and more about His sovereign care over all things, and what a blessing it is to be under the providential hand of such a kind and loving God.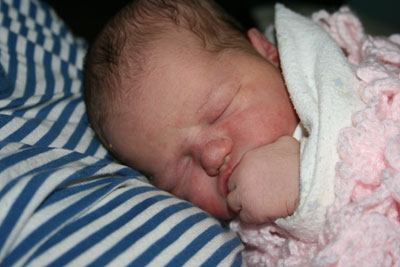 This little girl just loves her fingers and fist! I have a feeling she was well acquainted with them in the womb. She found her thumb in the first hour after birth!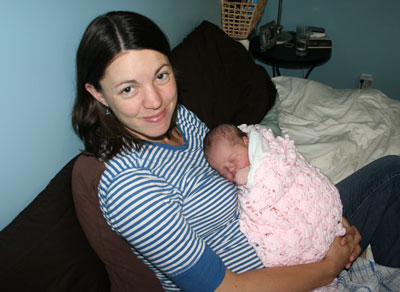 Enjoying my sweet girl, the day after her birth. There is nothing in the world like the first few days with a newborn. So fleeting and so precious.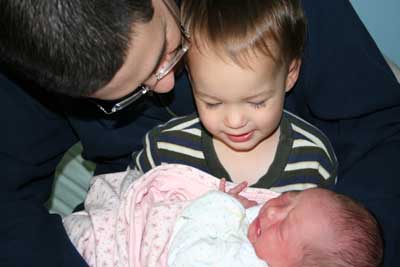 Caden just can't get over the new "bay" (yep, only one syllable- we're working on it!) and loves to give her kisses. Ryan is absolutely in love with his new daughter, and I'm glad I'm the one who gets to nurse her or else I don't think I would have many chances to hold this little girl!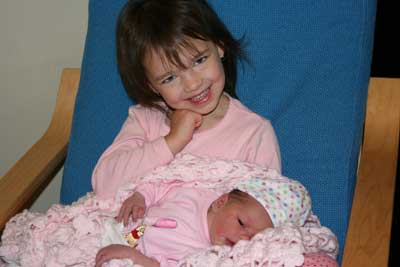 Abbie holding Johanna this morning. She's the most doting big sister ever, and is so gentle and responsible with her.
I think I'll have the birth story ready later today, with more details and some photos from her arrival. Thank you so much for all of the congratulations and well wishes! Everyone is doing really well, just enjoying our new addition and praising God for her. So far, it feels like we're adjusting to being a family of 5 with relative ease (due in part to Grandma's help, I'm sure!), my recovery is going smoothly, and we're just having a wonderful time being together with Ryan off of work.
Starting on Monday, I'll begin to put up all the incredible guest posts that I've received, and I can't wait to share them with you. More to come soon…