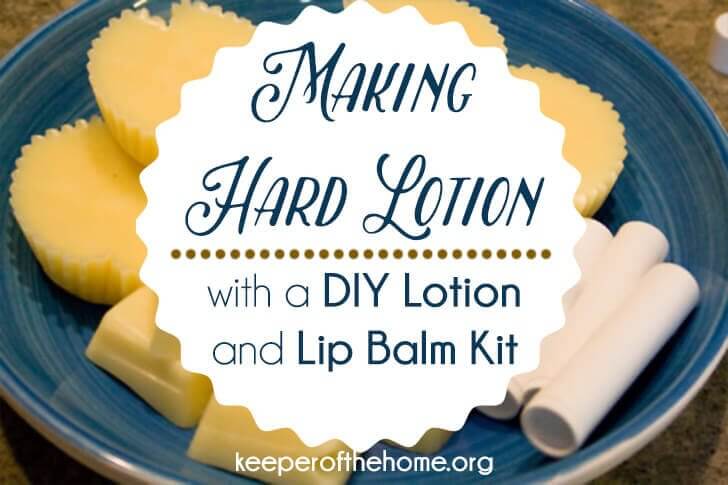 Last summer, I told you how a hard lotion bar helped my eczema, and gave me back my dry hands. More than 6 months later, I still loving using my hard lotion bars.
My only problem is that I'm really cheap. These amazing bars aren't actually expensive at $9.95 each, but it does still add up. I totally appreciate that MadeOn also offers a refill pack, minus the cute metal tins that they originally come in, 2 bars for $15. Economical and earth-friendly.
But, did you know that you can make your own hard lotion bars even more frugally, with the same great results?
My sweet 6 year old daughter and I were the excited recipients of the new Do-It-Yourself Lotion and Lip Balm Kit.
Our goal was to see just how easy it really was to make lotion bars that were equally as good as the ones that I usually buy, in our own kitchen, with no special equipment and zero previous lotion-making experience. Follow along to see how we did!
A quick look at the helpful DIY video tutorial, a read of the instructions included in the kit, a few sips of tea and we were off…
Here's the equipement we gathered up, in addition to what came in the kit:
Two pots, to create a double boiler
Makeshift lotion molds (we chose a muffin tin, using papers because my tin is old and awful, and a plastic ice cube tray, but you could use anything you like)
A chopstick, to use as a stirring stick
Some essential oils (which I forgot to take a picture of)- we chose Grapefruit and Orange
Here are the three oils in the pot before we began to heat things up. Shea butter, coconut oil, and then beeswax granules on the top. Everything was pre-measured so there's literally no thinking or measuring involved in getting the bars to turn out right.
We did have a hard time squeezing the coconut oil and especially the shea butter out of the plastic packages. Then, as we were cleaning up, I took another look at the instruction sheet and that's when I saw it, "Freeze shea butter and coconut oil for ease in removing from bags." Right. This is why we read the instructions.
I was so busy stirring and videotaping while we had the double boiler set up that I didn't get a picture of it, but it was basically just a large pot below, half full of boiling water. Then we used a smaller pot with a long handle to rest over top, and stirred it as the oils melted and melded together. This is what they looked like completely melted.
I timed it and it took about 4 1/2 minutes for everything to melt (keep in mind that my oils weren't frozen first). Pretty fast!
Next, we poured the lotion into the molds. We made the muffin molds with no scent added, simply pouring the melted oil mixture straight in.
For the ice cube tray mold and the lip balms, we added some essential oils. The directions say to use about 10 drops per 2 oz. of lotion (only if you want to- adding the oils is not necessary). Honestly, I'm not one for measuring things very much. I think we could have added a few more drops than we did. Ours smell nice, but the scent could be more obvious than it is.
After adding the essential oil to the remaining half of the lotion mixture, we just stirred it and poured it straight into the mold.
The lip balms are the only slightly pickier part, and even they were a cinch. The kit comes with a really handy large dropper. Suck up the melted oils, then drop them into the lip balm tubes. Fill each one up about halfway, and then go back to the one you did first if they've started to cool a bit, and top them the rest of the way to the top. You can keep dropping them so that the oil is sort of bubbled on the top, but just before it spills over.
Except that ours did spill over a bit.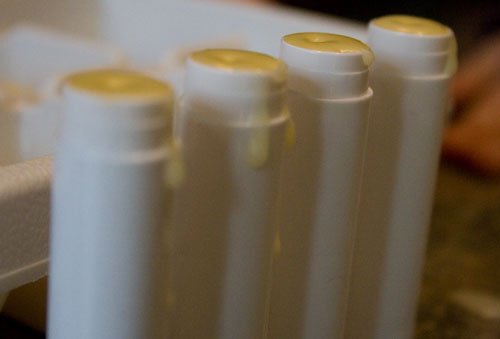 It was easy to just wipe off the excess once it dried with my fingers and a tea towel.
We put the other molds in the fridge/freezer (our freeze is too narrow for the muffin tin) for just a couple of minutes, to help things solidify quicker and so that we could get them out easily. It worked. Everything just popped right out of the molds and turned out great.
Except that our larger lotions look like Pac-Man cupcakes. I think it adds character. Don't you agree?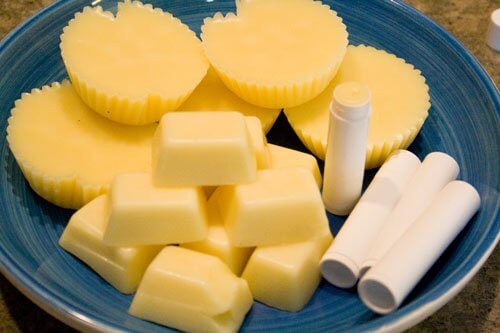 The final result! In less than 40 minutes, start to finish (while filming and taking pictures to document it all), we made 13 oz. of lotion bars and lip balms.
Abbie and I both tried them out and thought they were just as good as the ones we bought. Who knew how easy it would be?
I definitely give the lotion kit a "2 thumbs up" review. We had a blast doing it together (a fun mother-daughter activity), in the words of Abbie it was "easy-peasy", and it's very cost effective. The kit costs $29.95, and makes the equivalent of $55 of lotions and balms (that's if you bought them in refill packs, the cheapest option, otherwise it would be $70 of product).
Want to see our process? Watch us make our lotion:

This post was sponsored by MadeOn: Skin Care, makers of the most natural and effective lotion, hair butter, rash cream and more. The kit was supplied by MadeOn for the purpose of review. All images and opinions are 100% mine.