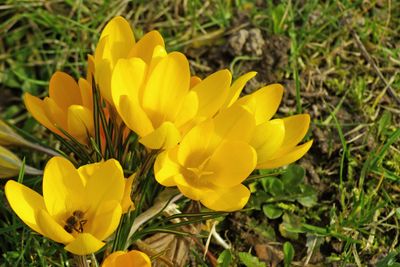 Life is feeling fairly uncertain this week.
The tenant we hoped would be evicted by last weekend remains, with no plans to leave. Our landlords are making some poor choices and not dealing with the situation with the seriousness and the swiftness that we feel are necessary. A run-in with the tenant the other night left me shaken. I try to keep from thinking about the health hazards we are being exposed to in our home. My husband would prefer me to stay inside, rather than start my gardening or take the kids out to play in the yard, just to be on the safe side. Visits and phone calls from the police have become the new norm.
And we are left sitting here, praying something will happen quickly and evaluating how long we stay and wait, and when and if we decide to move on (a decision which we hope to not have to make, as we have generally been quite happy in this house and had no plans to leave yet).
When I awoke yesterday with a painful pinched nerve in my back, the hopelessness seemed to settle over me distinctly. I hunkered down on my couch with a hot water bottle and I anxiously allowed my thoughts to explore all of the "what-ifs" of the situation. I was left feeling scared, uncertain, sorry for myself, worried, angry, and completely out of control.
Yet, God was guiding my day and my heart. Here are three very good things that happened yesterday:
1) Soaking in the Word of God
"For this reason, I bow my knees before the Father, from whom every family in heaven and on earth is named, that according to the riches of his glory he may grant you to be strengthened with power through his Spirit in your inner being, so that Christ may dwell in your hearts through faith— that you, being rooted and grounded in love, may have strength to comprehend with all the saints what is the breadth and length and height and depth, and to know the love of Christ that surpasses knowledge, that you may be filled with all the fullness of God.
Now to him who is able to do far more abundantly than all that we ask or think, according to the power at work within us, to him be glory in the church and in Christ Jesus throughout all generations, forever and ever, Amen."
Ephesians 3:14-21 (bold mine- some thoughts that particularly stuck out to me as I read)
2) Talking to a good friend who gets me, and who was able to help me talk it out, clear my head and refocus.
3) Her reminder to "do the next thing" (read this beautiful poem, if you've never read it before or just to be encouraged). There's so much right now that I can't change and have absolutely no control over and no knowledge of how the situation is going to take shape as the days and weeks progress. I feel a bit stuck as I consider what to pour my time and efforts into (ie. is spring cleaning or planting more seedlings even worth it?) What I can do is look around me and do the next thing that needs to be done. A few examples from yesterday afternoon:
sort the laundry and start a load
put away the remaining few Christmas items that got missed during my 1st trimester, post-Christmas slump :)
water all my plants
put dress up costumes on my children and take gorgeous pictures of them having a blast together
make myself a fruit and greens smoothie (the advice of another good friend :), then sit down to relax and work on my blog while all the kids napped/rested
make a yummy dinner to enjoy with my family and our guests
It was amazing how simply writing a list of some of the things that I could do and putting myself to work doing them helped to lift my anxious thoughts, and how good it felt to focus on something productive! God was so kind to care for my needs in so many ways yesterday, and I feel much more encouraged and hopeful today. He is far bigger than this situation, and completely worth of my trust.
How have you been encouraged during times of uncertainty? Do you also find it helpful in these situations to just "do the next thing"?