**Yes, this is baby Johanna in the kid's little doll carriage, lovingly wrapped up and given a little piggy to keep her company. :)
I think one of the most wonderful things about having a 3rd baby is that the actual work of caring for a newborn becomes so much more natural. I remember feeling fairly overwhelmed when I had my first child, a lot less when I had my second, and now this third time around feels even that much simpler and easier.
The longer I am a mother, the more that I realize there are very few things that I need as I nurture my new little one. Her needs are not complex, and neither are the tools that I need to meet them.
There have been a few things, however, that I have been considering quite indispensable in these early days with my sweet little girl:
1) God's grace. Abundant, undeserved, unfailing, sufficient. Along with the daily strength that He offers me, comes deep and pervasive joy. I am overwhelmed, but mostly by His goodness and the rich blessings in my life. 
2) My husband. More than I can ever remember before, I have been cared for and coddled and treated like a queen. In the first few days, if I even tried to so much as put a dish in the dishwasher, I was told in no uncertain terms to sit myself back down! He has been so understanding of my need to rest, and so helpful with the children and around the house. I don't know what I would have done without him!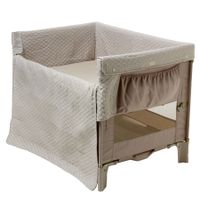 3) Our Co-Sleeper
. If there is one thing that I would recommend for every new mother, I think this would have to be it. Having my baby right beside me allows me to nurse so easily throughout the night, without getting up, without turning on lights. And having her in her own bed (and not actually in mine) allows me to sleep comfortably, without worrying about baby, without feeling squished. Ahhh… nighttime nursing at it's finest. 
4) My Shower Hug. Back when I reviewed this, I had a feeling that I was really going to like it. Boy, was I ever right! It's like a hot compress in the shower, and much more comfortable than a nursing bra at night. Oh yes, I like it very much. :)
5) Our washer and drier. Between stuff from the homebirth, all of my non-pregnancy clothes that were musty from storage (yep, should have thought to do that pre-baby), regular family laundry and now the usual deluge of laundry that comes along with having a newborn, those machines have been doing double duty, I tell ya!
6) Meals I don't have to cook. Between my MIL here for a few days, a week of dinners from our church caregroup (standard for every baby born- I think this is such a good thing!), and my after-baby freezer stash of meals and simple meal-makings (nitrate-free turkey hotdogs, anyone?), we have been set around here. What a blessing to not have to be doing much fussing around in the kitchen at this point! Every time I try to get more active again since the birth, it starts to obviously affect my recovery, and so I am grateful to know that even if the house gets messy or all that laundry doesn't get caught up on yet, at least we will eat!
7) My nursing canopy and sling (oops, that's 2 things, isn't it?). These are a couple of items that I decided to splurge on this time around (if splurge is the right term for someone who buys things only on sale or places like Craigslist). I got through two previous babies without them, but decided that they sure would be nice to have, and I'm so glad I did. My nursing canopy is not only adorable (a boldly colored morning-glory pattern by Amy Butler), but it really does make nursing in public so much easier as it is completely hands-free and more covering than any blanket. My new-to-me Hotsling

has also been a huge improvement over using a Snugli type carrier, a bad ringsling, and an Ergo infant insert. It folds up small, goes on and off quickly, keeps baby snug and happy, and so far isn't bugging my back. I'm a happy camper.
What things do you consider indispensable after the birth of a baby?