Wish it felt easier to transform your home into a healthier place to be with frugal, green, and non-toxic cleaning supplies?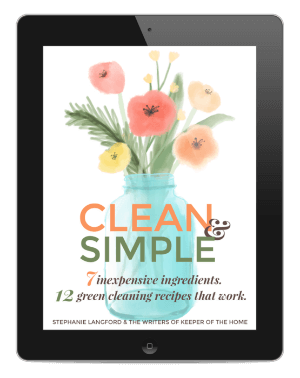 When it comes down to it, we're looking to maintain our homes in a sanitary way, to keep things looking and smelling fresh and pleasant. It's really not that complicated.
If we were to believe the TV commercials that depict exhausted and disillusioned women wearing ratty do-rags with dirty smudges on their face OR their brightly-smiling, cheerfully-fake counterparts who scrub their tubs without chipping a perfectly polished nail, we'd believe it to be either pure drudgery or sheer bliss.
In reality, it falls somewhere in between. Cleaning is necessary, yes. It's likely not your favorite part of homemaking, and nor is it mine. That's why over the past 10 years of homemaking and healthy living research, I've found ways to achieve cleanliness that compliment my healthy living sensibilities, my frugal budget, and my busy work-at-home, homeschooling-mom-of-four schedule.
Simple is best. It doesn't need to be fancy, nor should it be intimidating. Maintaining your home in a natural, non-toxic way is both affordable and doable. In fact, we've put together a short eBook to help anyone whip up 12 green cleaning recipes (that really work!) with just 7 cheap and simple ingredients that you'll find without hassle in your local stores.
We'd love to send you our eBook, Clean & Simple – 7 inexpensive ingredients. 12 green cleaning recipes that work, for free when you subscribe by email!
To subscribe, just enter your email below and press "Subscribe me!"

You'll begin receiving our weekly digest every Saturday. It's just one email with all new posts from that week, to protect your inbox from unnecessary clutter (because we hate inbox clutter, too.)


If you would like to receive my blog through a feedreader (like Feedly), please click below:

Subscribe in a reader (RSS)