Inspired by a few great meals we've had lately, I just had to share these two recipes as my Kitchen Tip for today!
Ryan's Mushrooms
My darling hubby came up with this scrumptious and oh-so-simple recipe for quick, sauteed mushrooms (sorry, I had a picture, but it has disappeared into the vast unknown regions of my highly disorganized digital photos).

Taco Salad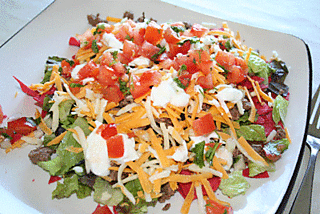 This is a simple, skeleton of a recipe that we eat often, especially in the summer. It's great because there are many variations, but it is also quick, healthy and tasty.

Not only does it taste amazing and fresh, it looks pretty too! This is such a kid friendly meal as well, with all the taco goodness in it, so no one will even notice that it's a salad!