Simply type your email address to enter the giveaway!
Do you like to win things? I thought you might!
That's why every single person who subscribes to Keeper of the Home by email will be entered, not once, but each and every month in a new giveaway. Giveaway products will be the same kinds of natural, non-toxic, and unique giveaways that you're used to seeing at Keeper of the Home.
The only difference is that you don't have to do anything special to make sure you're entered. Just subscribe one time, and you're entered for every. single. giveaway. Easy, huh?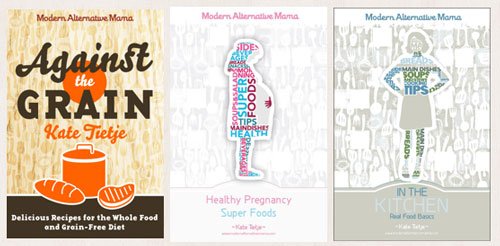 This Month's Featured Giveaway:
A chance to win one of two "real food" ebook bundles from Modern Alternative Mama (each containing 3 ebooks and a total of 90 recipes)!
Kate Tietje's ebooks focus on wholesome, healthy, real foods to nourish both moms and their families, but while keeping it simple. She explains the basics of what to make in a "real food" kitchen (and how to make it), how to eat well for 2 (through pregnancy and nursing), how to incorporate more super foods into delicious everyday meals, and even how to cut back on or go grain-free without feeling deprived!
This 3-book bundle includes:

In the Kitchen: Real Food Basics

Healthy Pregnancy Super Foods (full of super foods and recipes to eat more of them for anyone, not just those who are pregnant!)

Against the Grain: Delicious recipes for the whole food and grain free diet
If you're looking for nutritious, whole foods recipes that will appeal to your whole family, you will love her books and find much inspiration for your meals. (And did I mention she just released a book full of amazingly tempting yet healthy dessert recipes? Treat Yourself is just out!)
Thanks for entering! Enjoy the emails and I hope you win!