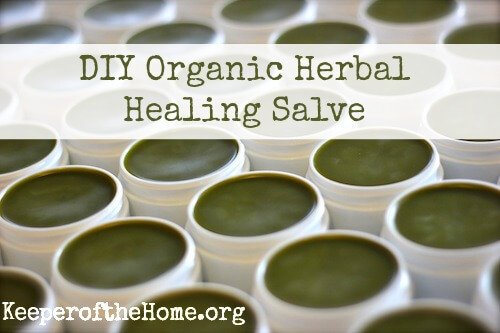 Written by Natalie Klejwa, Contributing Writer
Salves are wonderful to have on hand for everything from diaper rash to bee stings. You can purchase them pre-made from various online vendors, your local health food store, or farmer's market. But did you know they are quite easy to make yourself?
I'm going to teach you the basics of how to make a salve so that you can come up with your own creative, custom- made concoctions. I'm also going to give you the recipe that we use to make our best selling Organic Herbal Salve. Really? Really!
There are three basic ingredients in a salve:
You can also add essential oils of your choice; five drops per ounce is a good rule of thumb. Some essential oils to consider for a salve might include lavender, tea tree, chamomile, and myrrh. A helpful resource to learn more about essential oils is The Complete Book of Essential Oils and Aromatherapy by Valerie Ann Worwood.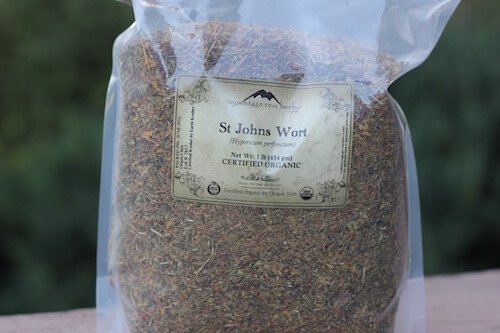 Herbs
Some herbs commonly used in skin repair applications include:
Calendula
Chamomile
Usnea
Echinacea
Pau D'Arco
Lavender
Yarrow
St. John's Wort
Goldenseal
Myrrh
Plantain
Comfrey
To find out more about different herbs and what they do, I recommend Practical Herbalism: Ordinary Plants with Extraordinary Powers by Philip Fritchey, MN, ND, CNHP.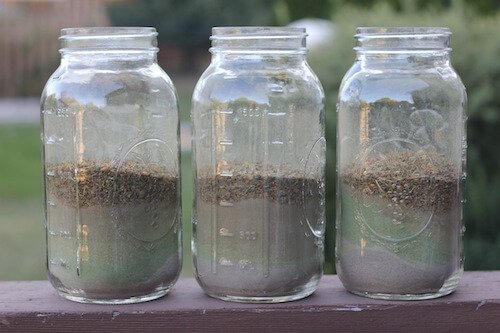 You can choose to make a salve with one herb or several herbs. When making a salve for babies or small children, the simpler, the better, to avoid the possibility of an allergic reaction. Some excellent herbs for a baby salve are calendula, chamomile, and lavender.
Our favorite resource for high quality, organic herbs is Mountain Rose Herbs. We usually purchase the powdered version of the herbs we use because the finer the grind, the more of the herb's healing properties that will be released into the oil infusion. If you are using whole herbs, you will want to grind them up using a coffee grinder or Vitamix dry container/blade.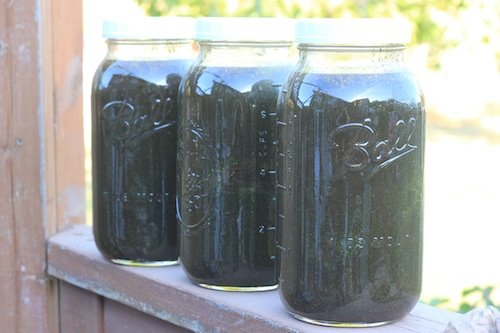 Oil
The first step in making a salve is to make an oil infusion. I highly recommend using olive oil for this step because it does not go rancid and is antimicrobial.
To make your infusion, fill a glass jar half full with finely ground herbs of your choice. Pour the oil over the herbs so that they are not exposed to air. Don't fill your jar too full! You will want to leave room for the herbs to expand in the oil.
Cover the jar tightly and place in a sunny window for 2-4 weeks, shaking them each day to move the herbs around. If you want to do a quicker infusion, line the bottom of a crock pot with a wash cloth, fill with enough water so that it won't overflow when you put your jar in, and place the jar in a crock pot set to the lowest setting.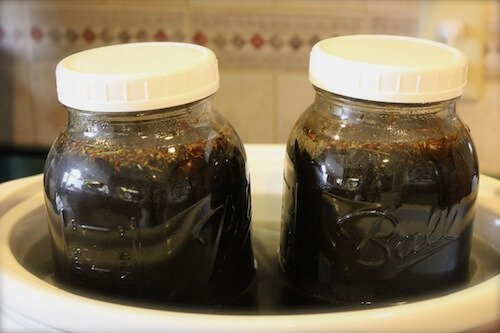 The warmth from the water surrounding the jar with draw out the healing components of the herbs, causing the oil to take on their color and scent. You can let your oil infuse for 1-4 days. I usually let my jars sit in the sun for a couple of weeks, and then I heat infuse them for a couple of days. This makes my salve a nice dark green color, indicating a high herbal content for the greatest possible benefit.
Once your oil has been infused, you will need to strain it with muslin or perhaps cheesecloth that has been doubled or tripled.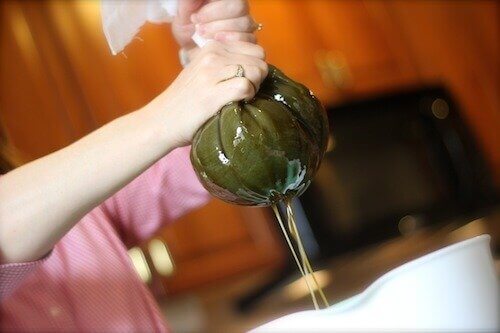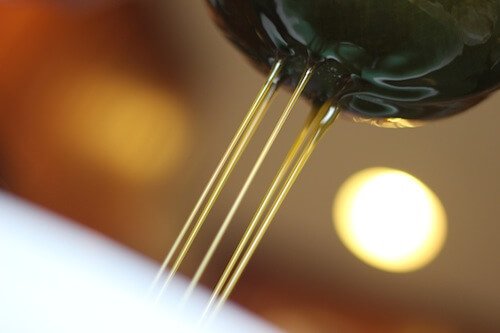 Wax
Your salve will need some wax to make it solid. Beeswax is perfect for this, but if you are vegan, you may prefer carnauba wax or candelilla wax which are plant based. You will want to use 1-2 ounces of wax per cup of infused oil, depending on how hard you want the finished product to be. If you live in a warm climate, you may want it to be harder, so you would use more wax, and vice versa if you live in a cold climate.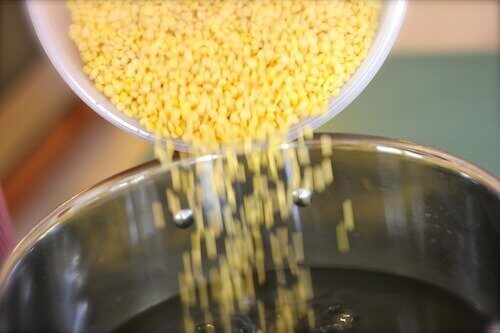 After you've added your wax of choice to the oil, slowly melt it all together on low heat until the wax has dissolved completely.
An easy way to test your salve to see if it is the desired hardness is to put a few drops of the melted oils and wax on a piece of wax paper. After it cools, touch it. If it is hard to the initial touch, but then melts into your finger after a few seconds, it is ready to pour into your containers!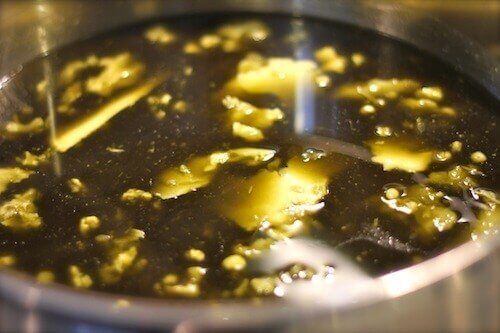 At this point, I like to add vitamin E oil and grapefruit seed extract…just a few drops per cup of oil…to my salve.  This aids as a natural preservative to prolong the shelf life of your salve.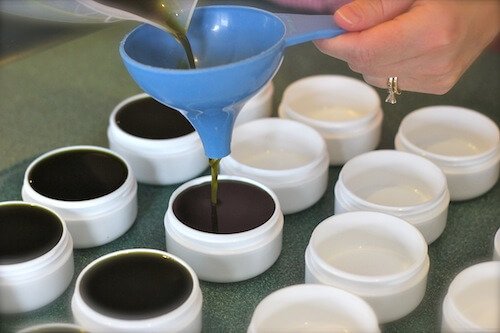 Now all you need to do is pour the mixture into your containers and allow to cool!  You can use pint sized mason jars, or you can get fancy and purchase containers online at places like Wholesale Supplies Plus.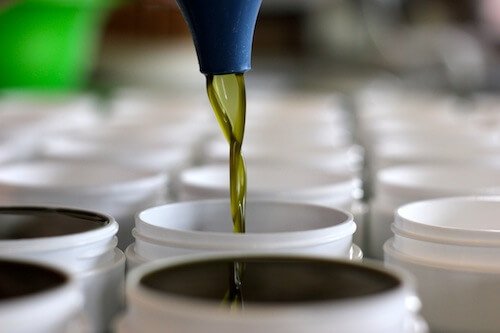 Apple Valley Natural Soap's Organic Herbal Salve Recipe

1. Fill a mason jar (you pick the size) halfway full with equal parts of the following organic herbs:

St. John's Wort
Echinacea Purpurea Root
Echinacea Purpurea Leaf
Plantain Leaf
Yarrow Flower
Rosemary Leaf
Comfrey Leaf
Calendula blossom

2. Cover with virgin, organic olive oil and allow to infuse for 2- 4 weeks in a sunny window, shaking daily.  Alternatively, use the crockpot method to heat infuse the oils for two days.

3. Strain oil into a sauce pan and add 2 ounces of unrefined beeswax per pint of mixture and heat just until the beeswax is melted.

4. Add a few drops of vitamin E oil and grapefruit seed extract.

5. Pour into containers and allow to cool.

6. Apply to bug bites, sunburn, minor scratches, poison ivy, diaper rash, and anything else you might use an antibiotic ointment for.
Here are some testimonials from customers who have used this salve recipe:
I just got attacked by what I thought was a horse fly, but I looked out on the porch, and there is a swarm of wasps building a nest. They stung me over and over again on my ear and neck, and it really hurt. I ran in and put on your salve and it felt better right away.
Stacie
Cleared my son's diaper rash right up, like nothing else I've used! And I have 3 kids, I've tried it all. Even the hard to get rid of yeast bumps were gone overnight. AMAZING!
Rachel
Sometimes my feet start to itch and in the past, the more I scratched, the more it itched. Lotions didn't help. One night I tried the salve, and the itching stopped almost immediately. Now, I just keep the jar right in my room! My ankles thank you!
Kris
I just wanted to drop you a line and let you know how much I am loving the salve. I've tried it out here and there for different things and its worked. But nothing impressed me more than today when I got bumped taking something out of the oven and my inner (very sensitive skin) arm hit the door. My skin turned bright red (just a first degree burn thankfully), I decided to try the salve. By the time supper was over I couldn't even feel the burn.
Jacinta
Stephanie's note: I couldn't resist adding my two cents to this post. I also use this salve regularly in my home, and it really is amazing. I have used it with great success on diaper rash, as well as to help cuts and scraped heal faster and with less pain, as well as less scarring. It is definitely a staple in my medicine cabinet! And for those who have asked, you can buy it pre-made here.
Do you make salve?  What are some herbal combinations you've used?
Disclosure: There are affiliate links in this post.