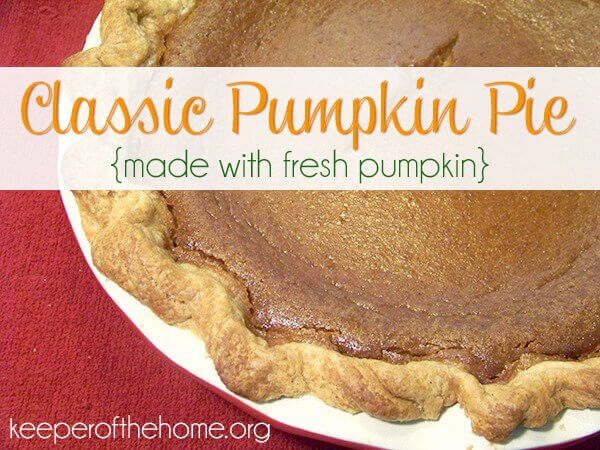 By Mindy, Contributing Writer
I never was a big fan of pumpkin pie during my childhood years.  Every year at Thanksgiving, I would choose cherry or apple pie over the classic pumpkin pie.  I never understood why it was such a big deal around the holidays!
Until…
I had my first pumpkin pie made out of fresh pumpkin. 
Wow!  What a difference it made in the taste and texture of the pie!  I finally had an appreciation for this time-honored dessert that I had never had before.
If you've never had a pumpkin pie made from fresh pumpkin instead of canned, I highly recommend giving it a try.  Think of the difference between fresh green beans and canned green beans.  The difference between fresh pumpkin and canned pumpkin is that drastic also!
If it seems like too much work to make your own pumpkin puree out of a whole pumpkin, I promise that it really is easy!  It's basically the same as cooking any other winter squash (such as butternut or acorn).  Here is a very easy tutorial that shows you exactly how to do it.

Classic Pumpkin Pie
Recipe type:
Desserts and Sweets
Ingredients
1 9-inch pie crust
3 cups fresh pumpkin puree
4 eggs
2 cups heavy cream
1 cup sucanat
1½ tsp. cinnamon
1 tsp. ground cloves
1 tsp. allspice
½ tsp. ginger
½ tsp. salt
½ tsp. vanilla extract
Instructions
Preheat oven to 425 degrees F.
Mix all ingredients together very well in a large mixing bowl.
Pour the mixture into a pie pan that has been lined with your pie crust.
Bake for 15 minutes at 425 degrees F. Reduce heat to 350 degrees F. Continue to cook for 45-60 minutes or until the pie is set in the center. A butter knife inserted into the center of the pie should come out clean.
Remove from the oven and allow to cool.
Notes
This recipe makes enough filling for a deep dish pumpkin pie. If you don't have a deep dish pie pan, you will most likely have some leftover filling. You can use this to make another smaller pie or pour it into muffin tins to make small, crust-less pumpkin "pies."
You can substitute 3-4 tsp. of
pumpkin pie spice
for the spices listed in the recipe. It will have a slightly different flavor profile, but use whatever is convenient for you.
The filling to this pie will seem very runny when you pour it into the pie shell. Don't worry, though! It will set up while it bakes. Allow it to cool completely for the best texture.
Are you a fan of pumpkin pie?  Have you ever eaten one made from fresh pumpkin?