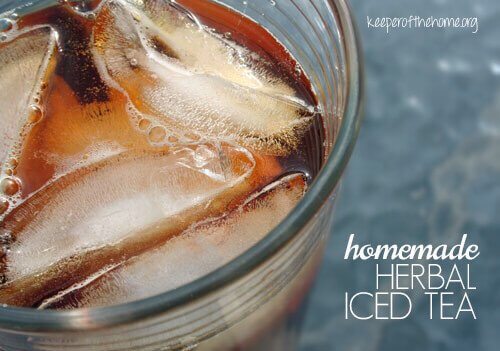 It may surprise you to know that growing up and into my young adult years, I was quite the fan of Nestea powdered ice tea mix. The super sweetened kind that tastes only vaguely like tea, and mostly like tea and lemon flavored sugar water.
Ever the poster child for bad nutritional decisions until I hit my early twenties and had a health crisis, I loved drinking that sort of fake iced tea. It all changed when I dropped sugary drinks like iced tea and soda cold-turkey. Now what type of cold drink would actually satisfy during summer's heat?
I've come to love more subtle but flavorful iced herbal teas, sometimes lightly sweetened with honey or stevia, and sometimes just as they are.
The wonderful thing about herbal teas is that there isn't just one variety, such as the standard sweetened, black tea that we're so accustomed to. I do have herbal teas that mimic black tea (which I really love), but I also have various other fruit teas, mint teas, lemon teas, and green teas, for example.
The possibilities really are endless and they are all so very easy to make. I have three basic ways that I make my iced herbal teas (not to be confused with herbal infusions, which are slightly different, but also amazingly refreshing).

Method #1: By the Glass (Loose or Bagged Teas)
This method works for both loose teas and bagged teas. Sometimes I just want a quick cup of iced tea, or only one serving of a particular flavor. Here's how I do it:
Boil a small amount of water.
Add either your tea bag or loose tea of choice (in a tea ball or some other sort of single-serving loose tea steeping devise) to a mug and fill it up with hot water. I used a glass above because it looks pretty and saves washing a mug, but honestly a mug is just easier.
Allow the tea to steep so that the brew is on the strong side, and then remove tea bag or herbs.
If you want to sweeten your tea at all, now is the time to do it, while you are still working with a hot liquid (if you wait until you have cooled it, the sweetener won't mix in properly).
The only thing to note is that if you are using something like green tea, you will need to add extra tea to make it stronger, rather than allowing it more time to steep (which will only make it taste bitter).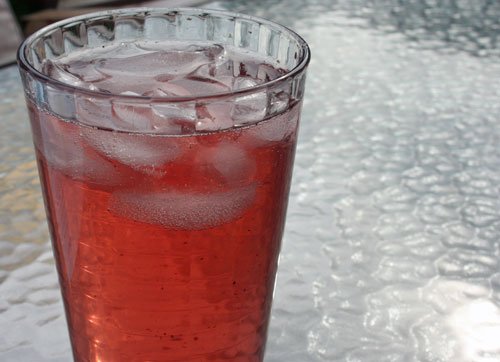 Then, fill a large glass 3/4 full (or even totally full) of ice. I like mine around 3/4 full, because it's still enough to get the tea to a cool temperature, without watering it down to much. Simply pour the hot, sweetened tea on top of the ice and give it a quick stir with a spoon (or if you're feeling lazy, a finger works just fine). Within a minute or two, much of the ice will have melted, leaving you with a glass of iced tea.
The nifty green and gray contraption that I'm using above to steep the loose tea is a Tuffy Tea Steeper. I got it this summer to review and I have to say, I love it. It folds down nice and small to go in a drawer, but opens up wide to hold lots of tea. It's a simple way to make single servings.
Method #2: Using a French Press (Loose Teas)
I adore my french press for making loose tea. It is actually perfect for making iced tea, because it allows you to easily make a very strong brew, strain out all of the tea in a snap, pour yourself a glass over ice, and then stick the remaining tea to cool in the fridge for instant iced tea later on.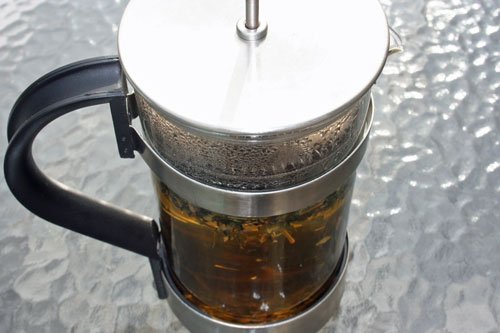 Again, I usually make the brew extra strong (using double the amount of loose tea that I would usually use) since I will be pouring it over ice that will dilute it. Add your loose tea, pour the hot water, and allow for an appropriate steeping time. I will usually let it go 5-20 minutes for most teas (and sometimes because I forget about it), but again, keep it at 4-5 maximum for green teas in particular. Also, some herbs will have a bitter taste if steeped too long, like the nettle I include in my pregnancy nutrient tea.
The only thing with using a french press is that you can't easily access the hot tea in order to sweeten it without messing with the loose tea that you are straining underneath. So, if you really prefer to sweeten with anything other than liquid stevia (which goes into cool beverages just fine) then you may want to pour some of the hot tea into another mug to sweeten first, before adding to a glass of ice.
The other option is to add the sweetener at the same time as the loose tea, before pouring in the hot water. This doesn't work very well with granulated sugar because you can't stir it properly, but it does work pretty well with honey.
On a side note, this summer, I've been playing around with lots of different loose teas, but one yummy selection has been the Herbal Tea Sampler I've been reviewing from The Tea Spot. The best one is Blood Orange Smoothie (a Rooibos blend that tastes surprisingly like an orange creamsicle), and I loved the fresh taste of Vitality (includes licorice, ginseng, peppermint, lemongrass and passion fruit- an unexpected but awesome combination).

Method #3: Using a Pitcher or Glass Jar (Bagged Teas)
A few of my favorite teas are bagged and this is a super easy way to make a pitcher to keep in the fridge. I have a 1 L (1 Qt) glass pitcher that I use for this purpose.
I use 3 tea bags, fill it with hot water, and allow a good, long steeping time (10-20 minutes). I often just stick it into a large pitcher with extra water in the fridge and lazily don't even bother to take out the tea bags. With most teas, you can get away with doing this.
Just as above, once the tea is well steeped, I can sweeten if I like in the pitcher or jar, then pour over a glass of ice for instant iced tea. Or, I add it to a larger pitcher, diluting it in half with filtered water, and stick it in the fridge overnight or for later in the day.
You'll notice the Celestial Seasoning box in my picture. Their Herbal Tea with roasted chicory is meant to be a caffeine free imitation of a standard black tea (like Tetley, maybe). I've tried so many teas, including far fancier and more expensive ones, but for whatever reason this one continues to be my favorite for an herbal iced tea that tastes like black tea. Lightly sweetened with a bit of lemon juice, it's amazing.
Do you make your own iced tea? How do you do it and which flavors do you love?
Disclaimer: The Tea Spot generously sent me some samples to review. I've included a few of my own opinions about their teas and products in this post, but was not paid or under any obligation to do so. I just happened to think it was good tea! And no Celestial Seasonings sponsorship either! It's just plain old good tea.
This post was originally published on August 12, 2011