After my first child was born, I started making my own homemade all-natural cleaning products.
My purpose in making homemade all-natural cleaning recipes is two-fold:
It saves me money.
I can control the ingredients, which allows me to eliminate the toxins found in the majority of store-bought household cleaners.
I started out with a basic vinegar-water, all-purpose cleaner, which is incredibly easy to put together and only pennies to make! It is still one of my favorites.
Making cleaners at home is so incredibly easy! So let's talk about how you can do it!
If you are planning on making your own cleaners, I recommend you go ahead and purchase some of the basic ingredients you will need for many of these recipes:
white vinegar,
baking soda,
lemon juice,
hydrogen peroxide,
rubbing alcohol,
and a few essential oils.
It can be a major timer sucker to search for homemade all-natural cleaning recipes all over the internet.
So, today, we're giving you 67 homemade all-natural cleaning recipes! Enjoy!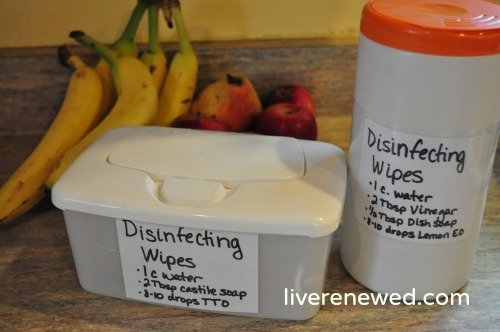 For the bathroom
And don't miss our post, Clean Your Shower or Bathtub Simply
1. homemade disinfecting wipes
2. safe bathroom cleaner
3. daily shower cleaner
4. toxin-free toilet cleaner
5. homemade, non-toxic disinfectant
6. homemade bathroom scrub (with a surprising secret ingredient!)
7. make your own 4-way soft scrubber

For the laundry room
For my thoughts on natural laundry care, read 5 Ways to Detox Your Laundry Routine.
8. how to clean a washing machine
Homemade Laundry Detergents:
9. homemade liquid laundry detergent
10. homemade, non-toxic concentrated laundry detergent
11. homemade powder laundry detergent using Castile bar soap
12. DIY powdered soap nuts
13. no-grate homemade laundry detergent
14. easy homemade laundry soap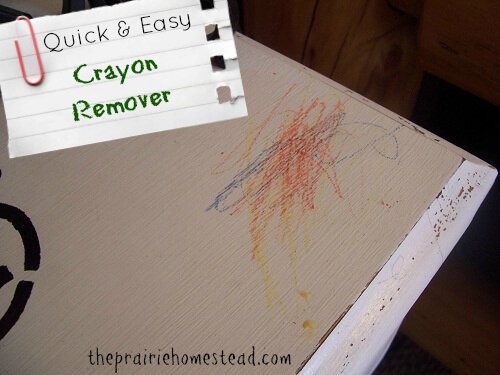 Homemade Stain Removers:
16. the best stain remover
17. DIY laundry stain remover 
18. natural bleach alternative
20. a surprising ink stain remover
21. homemade oxyclean
22. homemade, all-natural laundry stain remover
23. Stacy's stain removal
24. homemade "Shout" stain remover
25. 1-ingredient crayon remover
26. DIY laundry spot remover
27. a set-in stain stain remover
28. a stain removal trick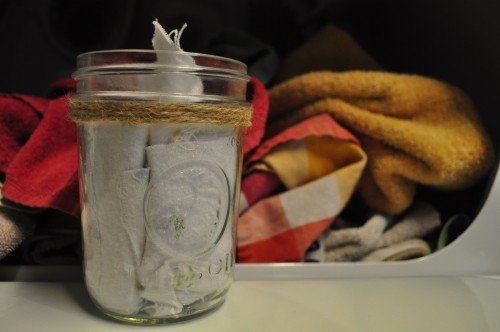 Homemade Fabric Softeners:
29. homemade fabric softener
30. homemade dryer sheets
31. alternatively, use wool dryer balls
For the kitchen
32. homemade liquid dish soap
34. cleaner for burnt pot and pans
35. cleaner for crystal
36. homemade produce cleaner
37. cleaner for the microwave
38. homemade, non-toxic oven cleaner
41. homemade dishwasher detergent
For more on keeping your kitchen clean, naturally, read or pin Recipe for a Toxin-Free Kitchen: 10 Homemade Kitchen Cleaners.
For the patio & garage
44. homemade bug repellent
46. using vinegar to keep your windshield from frosting in the winter
All around the house
Carpet:
47. how to get a set-in stain out of carpet
48. green carpet stain remover
49. simple carpet freshener
50. simple, frugal carpet cleaner
51. homemade, non-toxic carpet cleaner
52. natural, homemade carpet freshener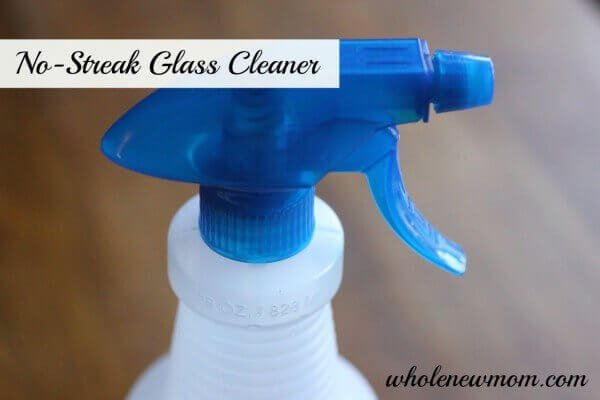 Furniture:
53. homemade dusting spray
54. homemade furniture polish
55. homemade wood polish
Glass:
56. no-streak glass cleaner
57. easy, green window cleaner
Deodorizing:
58. "fauxbreeze"(a natural spin on Febreeze)
59. homemade air freshener
60-61. two odor eliminating, air freshening sprays
Miscellaneous:
62. homemade ant killer
63. natural wallpaper remover
All-purpose cleaners:
65. multi-purpose citrus cleaner
66. simple, homemade, 3-in-1 household cleaner
67. homemade, all-purpose cleaner (with a video tutorial!)
Want even more homemade, all-natural cleaning inspiration?
Check out these posts:
Non-Toxic Cleaners You Can Make at Home
How to Keep a Clean Home: It's all About Prevention
Back to the Basics: Frugal, Non-Toxic Green Cleaning
DIY Green Cleaning Recipes that Work
What are your favorite homemade, all-natural cleaning recipes?
top image by sskennel