I just adore Greece and it's hard to pick just one photo to share (and honestly, I haven't even gone through 10% of our photos yet, this was just what I grabbed really fast for something to put in this weekend's post).
This is Santorini Island, Greece. It is as picturesque as I imagined it to be. Getting through the hordes of tourists with a stroller? Not so easy. But it's breathtaking, nonetheless!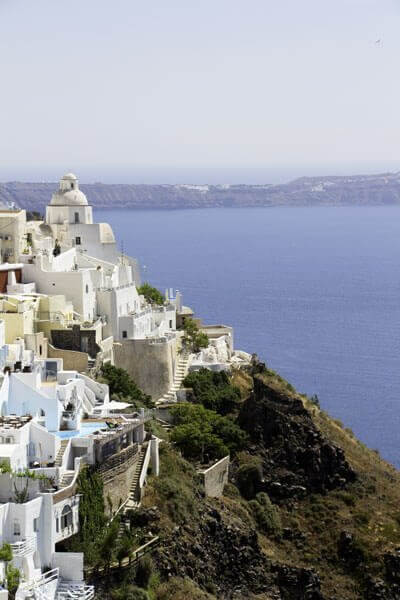 This is the town Fira on Santorini. The top photo is of the town Oia.
Earlier this week, we were in Athens, exploring the fascinating National Archaeological Museum, as well as visiting the Acropolis. First, however, Caden showed us how he could kick some five-headed Greek monster's tush, courtesy of a street mural in downtown Athens.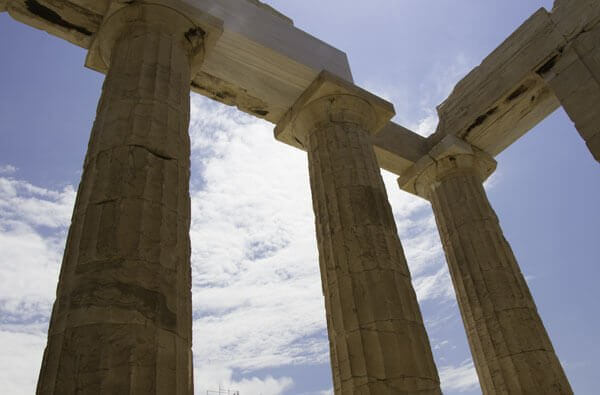 The astounding Acropolis.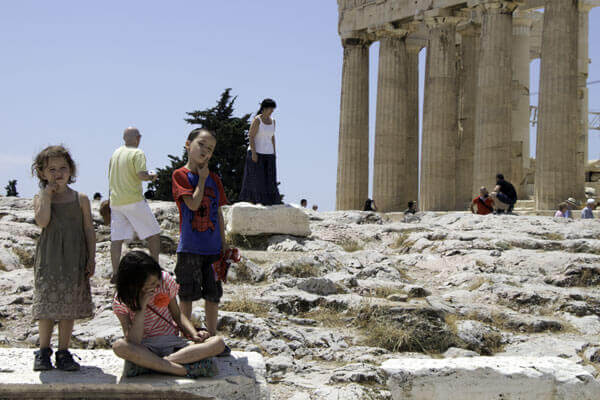 My little Greek philosophers, in front of the Parthenon (and silly me was so busy trying to pose them while Ry took the photo that I didn't even notice the lady in the background).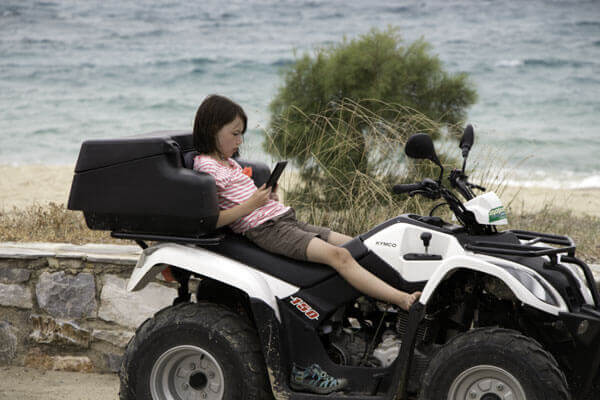 We rented a four-wheeler one day, for tooling around Naxos, the island we're currently staying on. The water behind Abbie in this picture is actually a brilliant turquoise, but our new camera editing software is giving me hassles (anyone know how to use Adobe Lightroom?) and so the color is dulled, as are the other photos a bit.
Let me tell you… there is nothing dull about the colors here in Greece, particularly of the sky and sea! They are so incredibly beautiful I could just stare out at them all day long.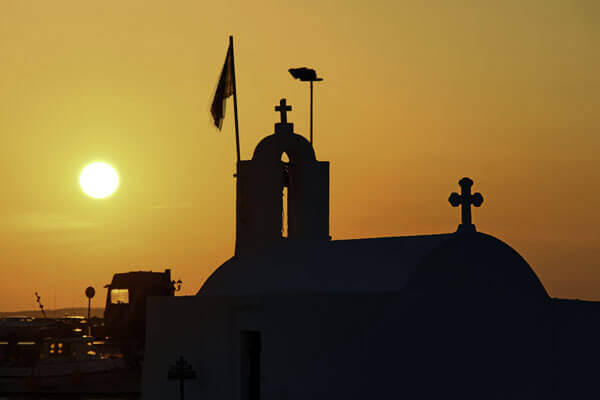 This church, right at the port of Naxos, caught my eye as the sun set. Truly, you don't have to look hard to find beauty in this place. It will be with full but sad hearts that we leave Greece in a few days.
Links I loved this week:
one thing your daughter doesn't need you to say @ chatting at the sky. Thoughtful and right on. My daughter isn't a teenager yet, but this is advice I want to remember.
6 Ways to Avoid Using Paper and Plastic in Your Home @ A Delightful Home. Our family uses all of these ways, except one (but it's so easy that I don't know why we don't). Any guesses which one it is?
Strawberries & Cream Popsicles (Dairy Free) @ The Coconut Mama. These are very simple, and really similar to a strawberry coconut cream popsicle recipe of my own, except that these ones will inspire you with their prettiness. :)
Stressed out: The danger of obsessive nutrition @ thank your body. I think it's good to be reminded to step back and stop stressing about all of the nitty-gritty particulars of nutrition and what we eat. Yes, we want to eat real food and nourish our bodies, but ultimately (and this is where I would disagree slightly with the end of this post), our health is in God's hands, not ours, and we can simply delight in the good things He gives to us, like fresh spring asparagus, or the first summer strawberries, or golden-yolked eggs from a farmer, and appreciate them for the gifts that they are, not for this or that nutrient or anti-oxidant. Food ought to be enjoyed.
A Mom's Guide To A "Geek To Chic" Summer @ Inspired to Action.
God's Help Through Loss @ (in)courage
How to Make Homemade Calamine Lotion @ Everyday Roots. I tend to just use a simple clay-and-water combination (ie. hydrated clay), but this calamine lotion recipe sounds particularly soothing, and not difficult at all to make.
Build-a-salad bar for kids and how my five-year-old made dinner @ Simple Bites. I firmly believe that getting kids involved in the kitchen is the best way to set them up with healthy eating habits for life.
This week…
This is our second week in Greece, which will be almost over by the time you read this post. After 5 days on the mainland, we're been spending 1 week on Naxos Island, in the Cyclades group of islands.
Just touristy enough to have lots of fun options for food and activities and cheap accommodation, but slow and easy-going enough to be a really pleasant respite, we're enjoying Greek-island living here on Naxos. We also managed a one-day tour to Santorini, which is a place I've always wanted to visit, and it didn't disappoint. I'll definitely be sad to leave Greece in a few days. It is truly a lovely place, with warm and friendly people, incredible food, breathtaking sites, fascinating history, and a slower pace that I could get used to.
What I'm reading: I hadn't been reading much (except a few snippets of my hubby's copy of the 4-Hour Chef by Tim Ferriss when I was bored on a bus), just because I've been very exhausted lately and trying to use any downtime to grab cat naps rather than read. However, I just bought Love Does, which has been on my wish-list for quite some time and I'm looking forward to reading that on our next ferry and train ride.
What I'm doing: A mixture of getting out and enjoying the sites, smells, sounds and souvlaki of Greece, while alternatively caring for four sick kids. Our poor kiddos have been battling a nasty virus, one after the other, for the past two weeks.
What I've been making: Tzatziki, with greek yogurt, lemon juice, fresh garlic, and cucumbers (you're supposed to shred them, but I rarely have a shredder in our rental apartments so I just peel and dice them finely). Combined with whole-wheat pita bread, this is such a simple and fantastic lunch on a hot day.
What I've been eating: Way. too. much. baklava. Thanks goodness we're leaving Greece to head to Italy next week (seriously… did I really just write that? How on earth is switching to Italian food going to help me in the slightest? The pastry and honey must be getting to my head.)
What have you been reading lately? I'm in need of some further inspiration, in particular, I'm looking for good fiction. Any suggestions?
Disclosure: This post includes an affiliate link.