Johanna dancing at Palamidi Fortress in Nafplio, Greece. She is determined to dance her way across Europe's greatest castles, in her pink dress, of course. 
Links I loved this week:
You matter @ Simple Mom
The Cost of Being A Stay-At Home Mom @ Growing Home
So God Made a Mother @ A Holy Experience
Top 5 Herbs To Grow For Cooking & Medicinal Use @ Food Renegade
Free Vacation Bible School Curriculums: The Armor of God & The Fruit of the Spirit @ Money Saving Mom
Making the Switch from Nonstick @ The Marathon Mom
The Power of My Words in Relationships @ Visionary Womanhood
When Mom Has a Young Man in the Making @ The Better Mom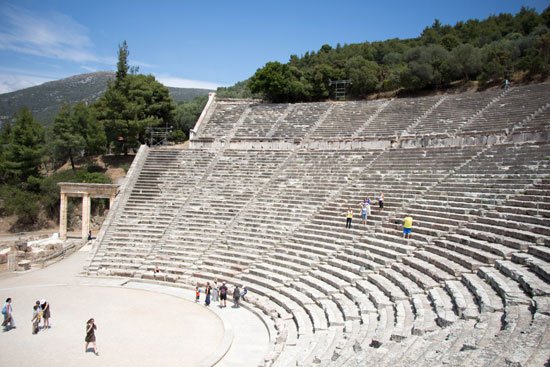 The ancient theatre at Epidavros… considered the best preserved in all of Greece. It's a marvel of technology, how you can hear everything that is said from the center of the stage, all the way to the top row of seats. 
This week…
Earlier this week, we arrived in Greece. I have wanted to come here most of my life, and so far, it has not disappointed! This week we're on the mainland. We arrived in Patras, spent 3 nights in Nafplio (and visited the theatre of Epidavros, as pictured above, as well as Mycenae, the site of the ancient runs of the Myceneans). We're currently in Athens for two days, and then we'll spend one week on Naxos island. We have one day to spend somewhere between the island and our ferry to Italy– any suggestions?
It's so hard to put into words just what makes me love it here so much, but here are a few things:
groves of orange, lemon and olive trees, everywhere.
old men driving down narrow, crooked, cobble stone streets on motorcycles.
ancient Byzantine churches, with domes of perfection, which lift up my gaze.
pink, red, purple and white bougainvillea flowers, climbing over trellises, across fences, down drainpipes, over doorways, trailing off of patios
tomatoes, cucumbers, red onions, olives, feta cheese, olive oil and vinegar.
this curious group of people, who can yell into their cell phone in the middle of a public place, having an argument with an unseen participant, and then be so warm and friendly to us, or even turn around and coo at my baby as if nothing happened.
baklava. pasty + nuts + honey. need I say any more?
the aquamarine sea.
castles on cliffs, castles on hills, castles on tiny islands.
ruins on cliffs, ruins on hills, ruins in valleys, ruins randomly everywhere.
delicious meat on a stick. is souvlaki not one of the greatest inventions ever?
taking my kids to a hospital (they're fine now, just so you know) in a city that is supposedly the oldest city in all of Europe, and perhaps, in the entire world. my brain can't even fathom it (the city's name is Argos, and it has been continuously inhabited for about 7000 years, or so I've read).
walking to the port to buy ferry tickets and stumbling on a market where I could smell the fresh fish and see the olives floating in barrels
white washed buildings. what is it about them that we love so much?
Am I the only one who loves Greek food? Did you notice how many times it came up in my list? :)