I couldn't resist sharing a few of the stunningly gorgeous photos from my husband's trip to Antarctica two weeks ago. This is what I wanted to see most of all… the turquoise icebergs. He said they truly are this bold aquamarine color!
Links I loved this week:
Becoming Debt Free & 6 Odd Tips That Helped Us @ The Nester. Myquilyn shares her family's story of getting out of $150,000 of debt, and as someone who has also had to pay off debt (ours was less, but seriously, debt is debt and it all feels huge), I know how hard it feels when you're stuck in the middle of it. If you're working your way out of a pile of debt, I pray that this encourages you!
When One is Greater Than One Thousand @ Shaun Groves
Stuck in the Doldrums: An Attack Plan @ Jen Hatmaker. I know what Jen is talking about, far too well. I think her advice is sage.
Three Steps to Wanting Less @ Home…Your Way. Step #1 is key for me.
GMOs and the Monsanto Protection Act: Our Take @ 100 Days of Real Food. Jason (blogger Lisa's husband) takes a really excellent look at this act and what we can do about it.
How to Live Through the Messy @ A Holy Experience
Filled With Awe @ (in)Courage. A beautiful free printable that you could frame, for those who want to remind themselves to allow the wonder and joy of spring to fill you with awe for our Creator.
Two Weeks of Meal Plans @ The Nourishing Home. This is a good opportunity to introduce you to Kelly, one of Keeper of the Home's newest contributing writers. She has shared a fantastic two week menu plan that you can print off to use yourself, with a full 14 days worth of breakfasts, lunches and dinners, plus "Do Ahead" prep tasks to help you make sure it all comes together as it should.
Thinking about spring and summer…
Spring is starting to arrive for many of you, and I thought this was a good deal to consider with warm weather and insect-filled months ahead.
This month, those who purchase the FAMILY size Bug Block from MadeOn Lotion will receive Katie of Kitchen Stewardship's Family Camping eBbook (with plenty of tips and recipes for bringing real foods with you as you camp) immediately after purchase!
Also, for those who purchase MadeOn's DIY kit (this is perfect for making your own lotion, lip balms, and even sunscreen), you will receive the summer edition of My Buttered Life ebook attached as a free download (retail $5.00 for the ebook). This is a recipe book of 5 summer skin care recipes (sunscreen, tan enhancer, bug repellent bar, foot protector bar, and body skin conditioner), with accompanying video tutorials. I love all of MadeOn's recipe. They're so easy to make, and very effective.
You can read my own tutorial post to see how I made sunscreen using MadeOn's DIY kit here.

And the Wise Choice Market Giveaway winner is…
Ashley (ashley4him@)
Congratulations! You are going to LOVE your prize!
Lucky Ashley is the recipient of a $100 real food package from Wise Choice Market which includes 7 varieties of soaked, all-natural organic cereals, 5 mini-jars of pre-soaked organic nut butters, Greek yogurt starter culture, milk kefir grains, and Caldwell's starter for vegetables!
For those looking for a source of truly real, wholesome foods that match up with traditional preparation techniques, you will definitely want to check out Wise Choice Market. They are a one-of-a-kind shop, with their soaked and sprouted grain offerings, soaked nut butter, cultured foods and starter cultures, incredible looking coconut milk ice cream with no refined sugar, and even homemade-style bone broth made with actual bones!

Just a couple more photos from Antarctica… they saw so many whales within a few feet of their zodiacs.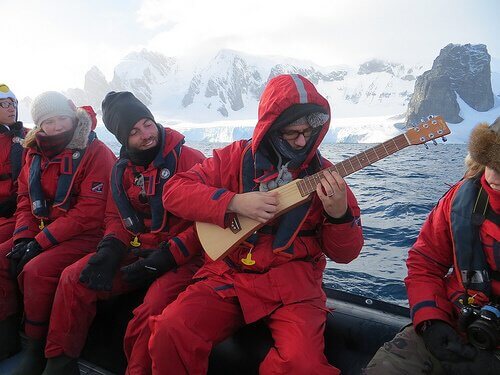 And one of Ryan's favorite memories, playing guitar on the zodiac one day, and also on the Antarctica mainland. It makes my heart so happy to see my husband having such an incredible experience. He hasn't written up a post on it yet, but he will soon!
This week…
What I'm reading: Trim Healthy Mama. We're working to find ways to adapt this and stick with the plan as much as possible, while traveling and still giving ourselves some freedom to enjoy local foods and treats.
What I'm doing: This is a big work week for me, as I work on a huge project together with Erin at The Humbled Homemaker… we'll let you know what it is in a couple more weeks, but it's very exciting!
What I've been making: I finally found feta cheese here in Argentina and made the most amazing Greek salad today for lunch. I also ate some for breakfast yesterday. Greek salad is one of those foods that I could eat any time of day, and for days in a row, without ever getting sick of it.
What food or recipe could you happily eat any time of day, or for days in a row?
Disclosure: This post includes affiliate links.