The drive near Cafayate, in Northwest Argentina. Stunning.
Links I loved this week:
Perfect is a Poison @ Jon Acuff
On Fear and Speaking to 3600 Women @ Shaun Groves
Responding to the homeschooling critics @ Simple Homeschool
The Problem With Being Supermom and How to Fix It @ Inspired to Action (probably my favorite post of the bunch, this one really hit me where I'm at this week)
More Grace: On Not Being Mean, Hateful or Horrible @ Jen Hatmaker (yes, yes, yes. I need so much more grace.)
5 Simple Ways to Make the Most of Your Income @ Stacy Makes Cents
3 Real Food Changes That You Thought Were Hard (But Are Really Simple) @ Modern Alternative Mama (these really are 3 excellent but simple steps- if you're still transitioning to real food, these are things that you could absolutely start doing!)
5 Tips to Help You Rise Early @ A Delightful Home (Preach it, sister! Just maybe not to me. Did I just write that out loud? Gosh, getting up in the mornings is HARD when you're living in a culture where they always stay up crazy late.)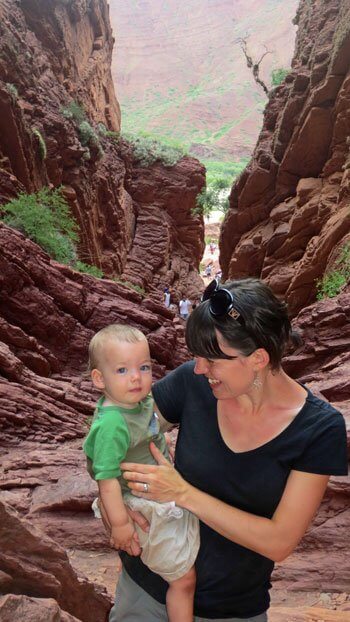 Climbing up the "Devil's Throat" canyon with my darling boy, Kepler.
This week…
What I've been making: Empanadas! I learned how to make them savory, with both chicken and beef. But then… my husband tried using the empanada wrappers to make something sweet. He added diced apples, cinnamon, butter and a bit of raw sugar. These things are crazy good. I can eat three six in one sitting. Seriously.
What I'm wearing: The same things. Over and over. It's strange, having a wardrobe that consists of 3 bottoms (2 capris and 1 skirt), a dress, and about 7 tops, and 2 pairs of shoes. In many ways, it's oddly freeing to remove all of the decision making and simply say "Oh, this is the pair of capris that are clean? Let me put them on. Hmm, it's hot out. Should I wear my white tank top or my gray and blue one? White it is."
What I'm enjoying: This weekend is a mix of sadness at leaving the city of Salta, Argentina, where we've been living this past month, and thrill at moving on to our next destination (way down south, to the very bottom of South America!). One of the hard parts of travel is that just as you learn to love a place, it's time to go.
So, I'm not a total minimalist when it comes to clothes (although this trip is making me one), but are there any of you out there? Does having such a small wardrobe sound good or bad to you?