Do you ever wonder what the writers on Keeper of the Home really eat? Wonder no longer. One writer each month will take a turn to share an actual two-week menu plan. Erin, who is due with her third baby two weeks from today, is sharing an easy meal plan for pregnant moms. Be sure to click back to Natalie's meal plan from last month!
Written by Erin Odom, Contributing Writer
I must confess: When I volunteered to write up the July meal plan a few months back, I was shooting for an easy assignment. I knew I'd be very pregnant with our third child (I'm due two weeks from today!), and how hard would it be to share my next two week's worth of meals?
Well…if I'm completely honest with you, meal planning has been challenging to me this entire pregnancy! Truly, I've really slacked off (and I'm not proud of that!).
I've never been and probably never will be a gourmet cook, but I strive to feed my family simple whole foods meals (quite the contrast from my early homemaking days of meals consisting mainly of canned creamed soup casseroles and boxed pasta dishes). Time and time again this pregnancy, I've turned to my quick and easy meals list because I honestly just haven't had the stamina to slave hours away in the kitchen. (And, realistically, what mom of toddlers and preschoolers really does have that time?)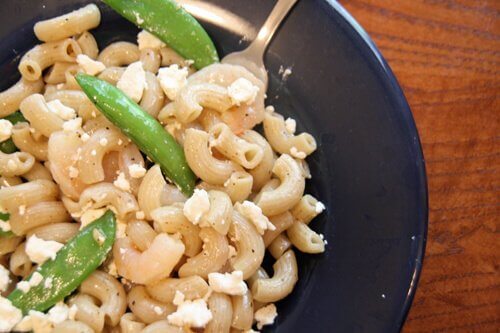 What has helped in my meal planning the most? Stephanie's Plan It, Don't Panic (both the challenge and the book), using my recently-won List PlanIt membership (the Lord knew I needed that one!) and, even more recently, Plan to Eat. I also try to keep my plans flexible, so I can take advantage of any clearance items at the grocery store if I happen to find them.
So today I'm giving you a two-week plan that is nothing fancy…but it's real. Most of these meals don't take very long to prepare, and, really, anyone can make them. For frugality's sake, I incorporate a lot from our garden in our summer meals. One thing you will not see are soups. My husband does not like soups in the summer (and can I blame him in 90+-degree heat?), so I only serve soups from about October through March.We also do not eat a lot of breads.
Without further ado, here's an easy-peasy meal plan from a an aspiring gourmet chef very humbled homemaker:
Week One
Sunday
Breakfast: sausage, scrambled eggs and fruit
Lunch: crock pot chicken & quinoa (Crock Pot meals are my favorite for after church…although I admit we've eaten out a lot more frequently this pregnancy!)
Dinner: leftovers before church Life group
Monday
Tuesday
Breakfast: gluten-free banana-flax muffins and fruit
Lunch: salmon pasta salad (great omega-3s for baby's developing brain! –  you can find salmon here)
Dinner: taco salads (For these, I simply place a handful of tortilla chips on each plate, top them with lettuce, tomatoes and peppers and place either ground beef or poultry cooked with my homemade taco seasoning on the very top. I sometimes cook black or kidney beans instead of the meat to save money. I garnish with shredded cheese and either sour cream or plain yogurt). This is Stephanie's version of taco salad.
Wednesday
Thursday
Friday
Breakfast: thick peanut butter smoothies
Lunch: leftovers
Dinner: quesadillas (I simply place cooked meat or beans, some shredded cheese and veggies from the garden inside a tortilla, fold it in half and cook each side for a few minutes on an oiled skillet.)
Saturday
Breakfast: sausage, scrambled eggs, fruit
Lunch: leftover quesadillas
Dinner: stir-fry over rice

Week Two
Sunday
Breakfast: sausage, eggs and fruit
Lunch: crock pot stuffed peppers
Dinner: leftovers either before or after church Life group
Monday
Tuesday
Wednesday
Breakfast: breakfast bars, fruit
Lunch: leftover pasta salad
Dinner: garden salads topped with grilled chicken
Thursday
Friday
Saturday
Breakfast: bacon, eggs and fruit
Lunch: leftovers
What do your meal plans look like during life seasons like pregnancy?
Disclosure: This post includes affiliate links.