Written by Erin Odom, Contributing Writer
My family doesn't eat fancy lunches. I usually send leftovers with my husband to work, and my girls and I eat mostly snack-like plates. It's just easier than stopping halfway through the day and preparing an entire meal.
However, there are days I get a craving for a little more–but I still don't want to stop to cook up anything elaborate!
On those days, I look at what I have on hand and throw something a little nicer together. A few weeks ago that entailed some chickpeas, tomatoes, an avocado, goat cheese and some drizzled oil and vinegar. Here's what I came up with: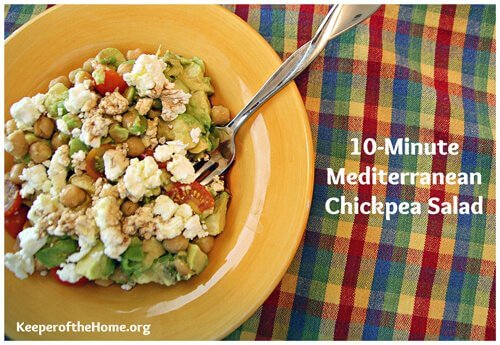 10-Minute Mediterranean Chickpea Salad
Ingredients
½ cup cooked chickpeas
¼-1/2 cup halved cherry or grape tomatoes
1 avocado, peeled and cut into chunks
2 Tbsp. goat cheese, crumbled
extra virgin olive oil, to taste
balsamic vinegar, to taste
Instructions
Combine chickpeas, tomatoes and avocado in a bowl (or even right on your plate!).
Top salad with crumbled goat cheese.
Drizzle with oil and vinegar to taste.
Enjoy your quick and easy--yet "fancy"--10-minute lunch.
Want more 10-minute lunch ideas? Check out Stacy's 10-Minute Turkey Wraps! I also recently put together a post listing my favorite quick and easy lunch ideas. My eBook, Real Food, Real Easy, also contains an entire section on easy-to-put-together lunches.
What are your favorite 10-minute lunches?