As we near the end of our "Spring Clean the Toxins" theme this month, let's develop a recipe for a toxin-free kitchen. After all, the kitchen is often the center of the home, and it's where we homemakers spend much of our time.
We know that making ingredients from scratch and getting rid of hidden food/food prep toxins is a great start. And by using simple, natural homemade cleaners, we can eliminate many other toxins that could otherwise leach their way into our systems.
From the endocrine-disrupting phthalates that hide away in conventional dish soaps to triclosan-laden hand soaps which can promote the growth of drug resistant bacteria (source), toxins may be lurking in our kitchens under the guise of cleaning products.
Without further ado, here are 10 recipes for homemade kitchen cleaners that are sure to keep the toxins at bay.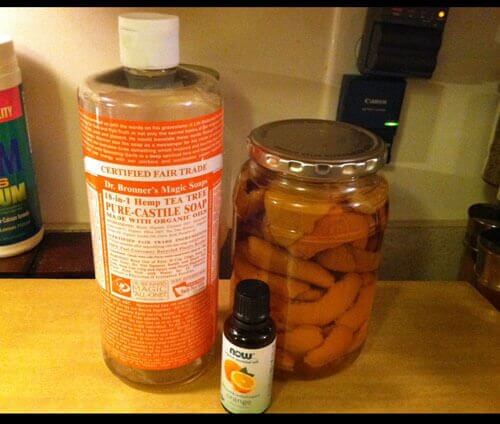 1. Homemade Liquid Dish Soap
Conventional dish soaps can contain phthalates, which can lead to reduced sperm count in men and possibly even liver cancer (source). It's really quite easy to make your own. I make mine using liquid castile soap, all-purpose citrus cleaner, and essential oils.
2. Homemade Dishwasher Detergent
I will admit that one of my favorite things about homemade cleaning supplies is that I don't have to go to the store as often if I keep a good supply of key ingredients to make my own. Stacy's recipe for homemade dishwasher detergent just requires salt, borax, baking or washing soda and lemi-shine! Four natural ingredients that leave no toxins, like triclosan, on your dishes!
3. Homemade Liquid Hand Soap
I don't know about you, but when I'm dealing with raw meat or even eggs, I wash my hands incessantly! When I started reading about the dangers of antibacterial hand soap, I couldn't wait to find an alternative.
This homemade foaming hand soap couldn't be easier to make. My husband and I re-use old mason jars to store the soap, and we gave a peppermint version as Christmas gifts to female friends and family this year! This recipe is so mild that we even use it as a homemade body wash/shampoo for our toddler and preschooler!
4. Homemade All-Purpose Cleaner
I have previously used a simple vinegar-water solution for cleaning my countertops, but I recently discovered Lexie: Natural's all-purpose citrus cleaner and fell in love!
This cleaner is SO easy to make. All you need is orange peels, salt, vinegar, and water! The best part is that the citrus scent helps masks the strong vinegar smell, which makes my hubby one happy man! I use this cleaner on my countertops, stove, sink, and even on my floors!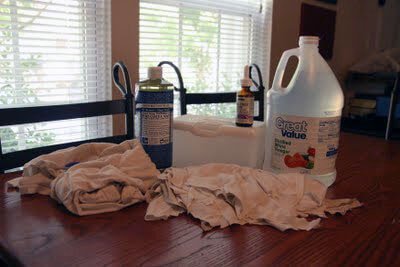 5. Homemade Disinfectant Wipes
When I was a newlywed, I used Clorox disinfecting wipes meticulously! I loved the ease of the cleaner already made into the wipe. Boy, how things have changed!
But I still enjoy using homemade disinfectant wipes on occasion. They really aren't hard to make yourself, and you can use old T-shirts to cut down on waste. Emily has an excellent recipe.
6. Homemade Oven Cleaner
I'll be honest–I rarely clean my oven. I guess it's part laziness and partly the fact that I just hate exposing my home to chemicals like the eye/skin-burning Sodium Hydroxide–which is a part of most conventional oven cleaners.
But Anne of Quick and Easy, Cheap and Healthy has several great ideas for non-toxic oven cleaners using supplies that most homemakers keep on hand anyway!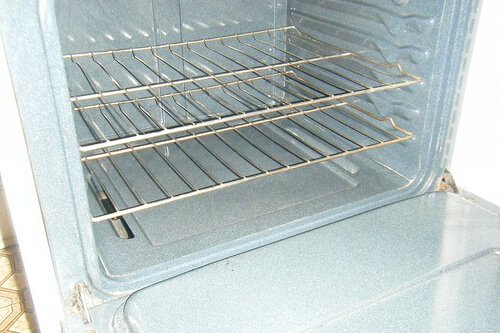 7. Homemade Natural Ant Killer
Thankfully, I've never had to deal with ants in my kitchen. But growing up on six acres in the country, I watched my mom battle the tiny insects almost daily. It seems that it only took one crumb on the floor for a whole army of ants to invade her kitchen.
Instead of using harsh insect repellents/killers, I'm suggesting my mom use Stacy's recipe for a homemade natural ant killer. It uses white sugar, but, hey, it's the ants eating it, not your kids…right?
8. Homemade Green Drain Cleaner
Nothing seems worse than a clogged drain–especially when you are trying to get dinner in the oven! Jen at This Gal's Journey has an easy-peasy, green drainer cleaner recipe that sure beats Drain-O (and is much cheaper as well!).
9. Homemade Produce Wash
Despite any debates about how to wash produce, I err on the side of caution and wash my produce well–especially if it's not organic. TipNut's recipe just requires water, baking soda, vinegar, and lemon juice!

10. Homemade Soft Scrub
A little over a year ago, Sharon shared this homemade soft scrub recipe with Keeper of the Home readers. Using just baking soda, laundry soap and grapefruit seed extract, Sharon says this is a "better, safer, cheaper alternative" to scrubbing your sink with conventional cleaners!
Bonus: Norwex Cloths
Now, I do NOT want to purchase expensive cleaners or cleaning supplies–not when I know I can make my own! But a few months back, Gloria asked if I'd like to review her Norwex cleaning cloths. She claimed the colloidal-silver-laced microfiber could actually clean up raw chicken with nothing else than water and the cloth!  I can say that, in the long run, using these or a similar product would cut down on toxins without burdening your budget on pricey "green" cleaners.
Now, do I personally ALWAYS use homemade or even green cleaners? I want to be transparent with you. Yes, 99% of the time I do. However, a few weeks ago I actually broke down and purchased some bleach and lysol.
What? Am I actually admitting that in this post?! Yes, I am. My family suffered for three weeks from the norovirus, and it finally took a bleach solution to kill it. However, I think those times should be very few and far between!
Looking for more homemade cleaning recipes or still new to making your cleaners instead of buying them? There's an ebook called Simply Clean: DIY Solutions for a Naturally Clean Home, which includes a wide variety of ideas for homemade cleaners to use not just in the kitchen, but in all areas of the home (laundry, bathroom, floors, walls, windows and mirrors, etc.). The ingredients are simple, non-toxic and frugal. It's $4.95, which is well worth it for the money you'll save making your own.
What is your recipe for a toxin-free kitchen? What are some homemade kitchen cleaners you use?
This post includes affiliate links.