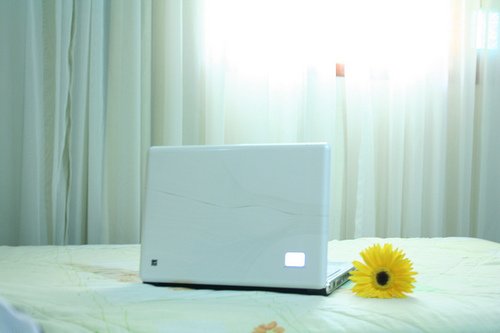 Did you miss the first two posts in this series? Find them here and here. 
Let's continue on with the practical, shall we?
Making Work More Productive
Part of the balancing act is learning to work smarter, not harder. This includes developing the ability to see what doesn't need to be done, and not just learning to do too many things more efficiently. Doing unnecessary work "efficiently" is still a waste of time!
Here are some productivity tips that work for me:
Batching. Rather than processing emails as they come in, on your iPhone or by checking your email frequently as you work, set aside particular chunks of time where you deal with it all at once. You'll be far less distracted and get through it faster. The rest of the time? Just close your email. The world will go on. (And you can apply this to many areas- do all of your weekly writing in one time slot, process orders all at once, etc.)
Set timers for work. I love using The Tiny Timer while I'm writing or completing tasks. It helps me to work faster, stay more focused, and be better at stopping when I need to.
Plan what you need to do before you begin. If I sit down with the computer without a prioritized to-do list, my time use is poor, to say the least. By taking 5 minutes to brainstorm what needs to be done and put it in a priority sequence (most important tasks first), I actually accomplish what is truly important, instead of just what comes easily.
Use Google mail and learn to manage your email well.
Use Google calendars or iCalendar. I use reminders for everything from my blogging post schedule to submitting my food co-op orders to date night with my husband to following up with an advertiser. I have the reminders sent to my email. Some people like the pop-up reminders. Use what works for you.
Avoid email and social media while doing important tasks. This is more particular to having a web-based business like I do, but for anyone that works from home, it's a matter of figuring out what are the distractions that keep you from completing important tasks quickly and effectively, and shutting them off.
Eat a frog. Do your crucial tasks first.  
Automate, eliminate, delegate. The process goes like this… take the things that you are currently doing or feel need to be done. Then ask yourself, 1) Can this task be automated in some way? (Computer program, reminders, auto-responders, etc.) 2) Can this task be eliminated? (Is it truly valuable, does it contribute to income-production, is it unnecessary busy work?) and 3) Can this task be delegated? (Again, back to hiring things out. Can someone else do this better/faster/cheaper? Do I really need to be the one to do this?). Just a few examples:
Auto-feeds for social media (I do this for Twitter, but not for Facebook)
Setting up detailed FAQ pages to refer people to
Use email filters to avoid seeing things you don't really need to see, or to automatically forward emails to people who need to deal with them (when it's not you)
Staying current in your field. How many blogs, magazines, articles do you need to read? Is reading them daily or even weekly necessary? How many conferences are worthwhile to attend? Which trade shows are actually worth going to? Be brutal and eliminate everything but the best.
Make a list of all tasks that you do and assess all of the ones that someone else could do, and if you can, seek to delegate or hire them out. Focus only on what you do best and what tasks absolutely require you and you alone.

Creative Scheduling
Part of being able to keep my family a priority and balance my work time with my husband's is that we try to arrange our schedules creatively. Who says you need to work within regular work hours?
Think outside the box. I use a combination of different times of day, lengths of time, and locations. When you look at your schedule, don't toss out any ideas without considering them. In some seasons, I have gotten up super early one morning a week, or let the children have a movie one afternoon a week. Take advantage of a night that your husband works late. There are so many possibilities.
When do you work best- mornings, afternoons, evenings? Choosing to work during your ideal times helps a lot with productivity. I write and work well in the mornings and early afternoons, but in the evenings my brain starts to shut off. I work one evening each week because it just happened to work that way, but it isn't intensive writing work. I also won't wake up super early to work anymore, because I personally prefer to keep that time for exercise and devotions, and I am a basket-case when I attempt to do mornings at 4 or 5am. For others, they thrive in the early mornings and so that might be their best time!
Before you put together your work schedule, carve out the times that are essential for your family's rhythms and routines. I slot in essentials like meals, homeschool, church caregroup and the like before planning the rest of my schedule.
Letting Go of Things That Aren't Necessary
Some things I've found it's good to let go of:
Social media. I keep it bare bones.
Checking email (or anything else) constantly. Not everything is urgent, so why treat it as such? Just because technology has made us available to the rest of the world every second of the day doesn't mean that we need to go along with it. Turn things OFF.
Making fancy meals. I realized that my family was just as happy with simple meals, so I toned down the need to make more elaborate things with multiple courses or dishes. Soup with bread, pasta with a meat-and-veggie sauce, a hearty casserole with some raw veggies. Why does it need to be more complicated?
Some household tasks. Do the floors really need to be cleaned on a particular schedule if they still look good from the last time you did them? Does anyone look inside your pajama or underwear drawers? I don't fold pajamas or kids pants, and store all my kids underwear and cloth diapers unfolded in baskets. When you're pressed for time with cleaning, do the doorknobs and baseboards and little crevices make a big difference? Focus on the basics- decluttered and wiped surfaces, floors, bathroom basics, and a tidy entryway.
Every opportunity. You can't say yes to everything. I've turned down things that I really wanted to do, but knew would be too much for me and my family.
Perfectionism. I aim for a high quality of standard in the work that I do, especially in my writing. I edit every post as carefully as possible but eventually, I have to press Publish. If I make a mistake, then I make one. Sometimes we just have to do our best, and be content with letting our best be good enough.
Being superwoman. You really can't be. And that's OK.
Source: uhohitsem.tumblr.com via Kelly on Pinterest
Resources to Recommend
Here are some highly recommend resources that have both challenged and encouraged me in my own journey as a blogger and work-at-home mom:
For bloggers in particular: