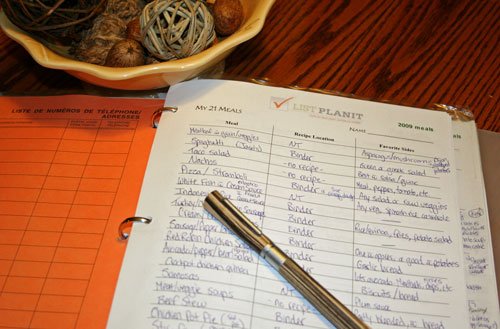 *Giveaway has now ended*
As I take some downtime this winter to recover and allow my body some time to heal, I am also contemplating my schedule for the upcoming months.
One of my major goals has been to clear a lot of the busyness off of my plate, making my schedule more realistic with a whole lot more margin for rest, the regular interruptions of daily life (messes, unexpected visitors, phone calls, etc.) and mostly for being able to stop and savor those golden moments that present themselves, whether they're with my children or husband, a friend, or a stranger.
Next week I'll be taking an overnight personal retreat, to give myself some time and space to really seek the Lord and plan productively. These are always cherished times that allow me to return home refreshed, inspired and ready to move forward in my roles as a wife, mother, homemaker and child of God.
Whenever I take time to plan, working on scheduling, homemaking details or anything of that nature, one of the first places that I go is to ListPlanIt. I've now had a membership there for over a year and I truly love it and use it.
How I Use My Lists
Meal Planning
The meal planning pages are among my most used. I like them for taking inventory of what food I already have, for making lists of my favorite recipes, and for both weekly and monthly meal planning. I'm also a big fan of making my own customized grocery shopping lists.
Blog & Business
Perfect for planning out my editorial calendars, where I plan posts a month or more in advance, as well as my general weekly blogging to-do lists.
Daily Organization
Rather than buying a planner, for the last year or two I've just been printing out weekly and monthly planning calendars to put into my homemaking binder.
Homemaking
I've asked Jennifer to create a list that will actually do my house cleaning for me, but she keeps insisting it can't be done (I wish, right?) She has, however, made a handy monthly cleaning chart that helps me stay mostly on top of the cleaning chores, anyways.
It's also easier to keep track of my three growing kiddos and their sizes and clothing needs using the clothes inventories. They allow me to track multiple children/clothing sizes on the same page, so I have one for my son and another for my two daughters.
Gardening
Seed starting and planting was made simpler last year with this list to help keep me right on track.
Moving
When we started planning to move last spring, the very first thing I did was print out moving pages and start a moving binder. It helped me to see at a glance what tasks needed to be done and when, as well as keep track of what had been packed in each of the rooms of the house, including an inventory I made of the contents of each box.
Want to Get a Taste of the Lists That I Use and Love?
ListPlanIt has generously made an exclusive ePlanner just for Keeper of the Home readers, including 8 of my favorite lists. If you're at all interested in getting a ListPlanIt membership of your own, this is a perfect way to check it out and see how helpful the lists are. Print them off, add them to your homemaking binder or planning system of choice, and enjoy!
Download the free Keeper of the Home ePlanner.
New- Home Education ePlanners!
This I am excited about! As a young homeschooling mama with my oldest in Gr.1 and my second rapidly approaching kindergarten, I am already seeing a greater and greater need to coordinate what I am doing for each child, in each subject, in an orderly fashion. Getting organized now will make it so much easier when I'm homeschooling 4 kids or 6 kids (or 10 kids!).
I got got my first glimpse of a Home Education ePlanner the other day and I have to say that I'm pretty stoked about what they include! I will definitely be using these to keep better track of what we're doing, the curricula we're using, progress we're making, our schedule, etc. Here's a taste of what's included (there are 23 lists in all):
Lesson Planner
Circle Time Planner
Goals by Subject
Multi-Student Planner
Our Home Education Day
Field Trip Ideas and Log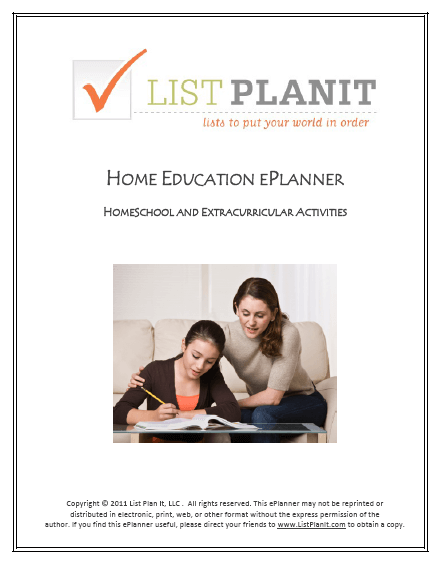 I'm giving away a 1-year Print Membership and 3 Home Education ePlanners!
Would you like to win? Here's how to get entered:
(Please remember to leave a separate comment for each entry)
1. Tell me how you would use your ListPlanIt membership or ePlanner (you can take a look through the type of lists that they offer here).
2. Subscribe to Keeper of the Home to get regular, free updates of each new post. You can subscribe by RSS, or get each post in your email inbox (as an added bonus, each month we choose a winner out of all our email subscribers, and this month's giveaway happens to be a chance at more ListPlanIt memberships!).
3. Share this giveaway through Twitter, Facebook, your blog or other social media of choice, and let me know what you did (you can find Keeper of the Home on both Twitter and Facebook as well).
4. Subscribe to ListPlanIt's newsletter.
Giveaway ends Tuesday, January 25th at 4pm (PST).Giveaway has now ended.
This post is sponsored by ListPlanIt, an online membership site where you can instantly access hundreds of lists to help you order your kitchen and meals, finance, time management, family matters, memories, moving and more.