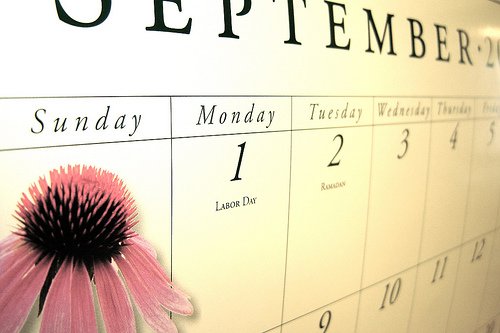 Flexibility. It is one of  the great skills that I have come to realize are a necessity for mothering.
Learning to go with the flow and figure out what to do as each new season of life arrives, full of unique challenges and opportunities, is essential.
I've talked recently about my desire to cut back on my blogging to focus on my family. That desire remains, but there's a dilemma. We're in a season of starting up a family business, and so my blog income has become more important than it previously was. This is an opportunity to serve my husband and support his endeavors, yet I still need to be able to accomplish my tasks as a mom, homeschooler and homemaker.
As a result, I've been tweaking my schedule and working hard to find a way to make things work together. I've had to take into account what isn't working and why it isn't working (this is key!), and then get creative.
The Challenges:
Traditionally, I have done my blogging work during naptimes. In some seasons, I have also done part of it during the mornings, before my kids are up. Recently, neither time has really been working for me.
With a baby waking once or twice a night, and my desire to be showered and dressed, have proper devotions, and begin laundry and breakfast before the kids are up, accomplishing morning computer time was becoming a large source of frustration. I would either skip it to stay on track with my other priorities, or blow those priorities off to get my work done. Neither option is a good way to start the morning!
Later in the day, I found that by the time lunch was finished and cleaned up, toys tidied and the kids down for naps/quiet times, it was already getting late. By the time I got to work, there seemed to be inevitable interruptions, distractions and things that required my attention. My work time was unproductive and disjointed, and suddenly the kids were up, and I needed to get off of the computer (whether my work was done or not) to finish my other tasks and get dinner started.
My initial reaction to both scenarios was discouragement, some resentment and anger towards my family, and frustration with myself.
After plodding along like this for some time, I recognized that I could either continue to allow these circumstances to rule me, eat away at my peacefulness, and leave me cranky and frustrated, or I could approach the challenge with a problem-solving mentality. I began to ask God to show me a way to turn these situations around and to find a solution that allowed me to give my family my best, while still carrying on with my blog.
My Solution?
First, I needed to let go of my ideal scenarios, and recognize that I am in a season of life where things just simply do not always go as planned. The needs of my children, husband and home are more important than being able to accomplish my "perfect" schedule. Interruptions and distractions are a part of this season of life with young children, and I need to accept that and embrace the season that God has me in.
Secondly, hubby and I got creative and we came up with 3 times for me to do the lion's share of my blog work:
Monday nights- from about 7:00 to 10:00 or 10:30
Tuesday mornings from 8:30-11:30 (with a mother's helper)
Early Friday mornings (from about 4:00-7:00am)
There is some sacrifice involved (financial, evening together time, sleep!), but in this season of life, the sacrifice is worthwhile for us.
Now, I will not attempt to do any work in the mornings (except Fridays). I can grab that bit of extra sleep I need, and still wake up early enough to be ready for the day, spend my time with God, and get a head start on breakfast and laundry. Waking extra early one morning a week (as opposed to five) is entirely doable and realistic.
Naptime will primarily be a time for me to do quiet work without the kids up, like meal or homeschool planning, grocery list making, do dinner prep, make phone calls, or even (gasp!) reading a book. I might still spend 20 minute on the computer to answer a few emails, do a tweet or two, or moderate some comments, but that's it. Rather than feeling ragged by 4pm, I will feel more organized and rested.
Will it work? Maybe. For a season.
Seasons change and then the plan needs to change, too. That's what flexibility is all about!
A few resources that have been helpful to me lately as I strive to get more organized and efficient, and tackle my scheduling challenges:
These are just some current examples of scheduling challenges that I have needed to overcome as I seek to serve my family and honor the Lord in all that I do. Scheduling looks different for each family in their own unique situations.
How have you overcome a recent scheduling challenge?