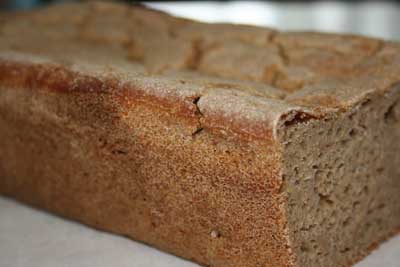 For all those who haven't heard about it yet, today is the kick-off for the latest carnival from The Nourishing Gourmet, my favorite food blog. The goal of the Pennywise Platter Thursday carnival is to create a place where we can share how we serve and buy nourishing foods, but as frugally as possible!
I am so appreciative of a carnival with this focus, especially as our family is about to enter a season of a more limited budget. My food budget won't be going down, but it certainly won't be going up or having any extra wiggle room, which is challenging these days as prices have risen so much and my family continues to grow and eat more!
I'm sharing the bread recipe that I have been making for the past several months now, with much success. It's not my own recipe (it comes from Serene of Above Rubies and was in the last issue of the magazine), but I thought I would pass it on and let you know how well it's been working for me!
The four things I love about this recipe/method:
1) It is so simple! It takes me no more than 20-30 minutes to whip up the dough (that's on days when I have to grind the flour) and sometimes as little as 15 minutes! Not bad, for a recipe that makes 3 loaves! Not to mention, it only has 4 ingredients, 1 of those being water!
2) It is nourishing! Since it is a soaked, sourdough recipe, it is very digestible, the phytic acid has been broken down and the nutrients are readily available to us.
3) It is good! It may not be that beautiful, fluffy sandwich bread that you buy at the store, but the taste is so nice, and the texture is not too dense or crumbly (which can sometimes be a challenge when making whole grain or non-wheat breads, and also with sourdough breads). My husband has not liked all of my bread making attempts, but he enjoys this one quite a bit, as do the kids and I!
4) It is cheap! Ahem, frugal. :) I make 3 loaves of bread, using only 6 1/2 cups of flour (I buy the grains in bulk, making it fairly cheap for organic, non-wheat flours), some salt, sourdough starter (more flour and water), and water. I just calculated the cost, and it adds up to $2.56 for the batch or about $0.86 cents per loaf (that's based on my US co-op prices- in CAN $ it would be $2.95, or $0.99 cents a loaf).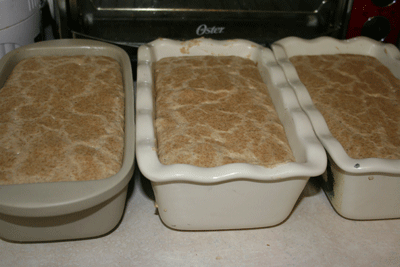 The Recipe:
(This is actually half of the original recipe, which is intended to make 6 loaves of bread. I only have 3 bread pans, so I cut it in half and it makes enough to last us about 2 weeks, give or take)
3 1/2 cups kamut flour (you can substitute spelt flour, as in the original recipe, or whole wheat flour)
3 cups rye flour
1 quart sourdough starter
3 cups filtered water
1 1/2 Tbsp salt
1. Mix all together, with a heavy duty wooden spoon or something similar, for 5 to 10 minutes. The mixture will be wet enough that there's no way you could knead it. Instead, you just stir it really, really well, and you will notice that the texture begins to change as the gluten strands lengthen, and it will get harder to stir. It really doesn't need any more than 5-10 minutes!
I have actually recently been experimenting with mixing up the dough in my Sunbeam Mixmaster. I know that you're not supposed to use metal on sourdough, as it can weaken the culture. However, so far the recipe has still worked just fine the 2 times that I have tried it. It takes even more of the work out of it, and mixes it quite well.
2. Pour the dough evenly into 3 well greased bread pans (I use my leftover butter wrappers to grease them). Using a wet hand, smooth or flatten it a bit.
3. Place the bread pans aside on a counter for at least 7 hours, covered loosely with a dish towel.
4. Once they have risen sufficiently, basically double in size and close to the top of the bread pan, they are ready to be baked. For me, this usually happens after about 7-8 hours. If they have risen before the 7 hours, wait it out. They need the full amount of time for the phytic acid to be broken down through the fermentation process of the sourdough. I've also had times when perhaps my starter wasn't quite active enough, and I left them slightly longer. No big deal, but be forewarned that if you leave them significantly longer (like 14 hours, oops! :) they will be very. very. sour. Still good, but sour. 
5. Bake at 350 F for 1 hour.
(When you use kamut instead of spelt, it seems to increase the baking time a little. It's difficult to say whether it's just my oven or not, but I have found that it needs more like 70-75 minutes for me to have them turn out fully cooked in the middle. I haven't tried it with wheat yet, so no tips there.)
That's it! About 20 minutes of work, 7 hours of doing anything else that you feel like doing, and 1 hour of baking. I like to have mine on the counter, starting to rise by 9 or 10 am. This ensures that I can have the loaves in the oven by 4 or 5 pm, while I'm cooking dinner.
To see the original recipe in video format, click here.
For some tips on troubleshooting with sourdough bread, see this recent post.
Do you make your own bread? What type of bread do you make, and do you find it to be cost effective and worth the time?