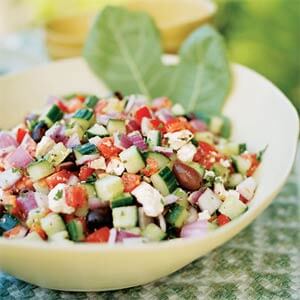 This is the ultimate Greek salad that I could practically live on (especially while pregnant).
I made this recipe because I disliked Greek salads in restaurants that had such big chunks of veggies that you could never fit more than one piece in your mouth at a time. I love all the flavors mixed together!
(And no, the picture isn't mine, but it looks very similar to mine! I tend to focus on eating, not picture taking, when I make greek salad.)
Stephanie's Greek Salad
(The amounts are all approximate, as I just do it by feel and add however much looks right to me)
1 English cucumber
3-4 tomatoes (this totally depends on the type- Roma, small or large, etc.)
1/4 large red onion (maybe 1/2 a small one?)
1-2 red peppers (again, depending how big they are)
Dice all veggies. I like mine in about 1 inch cubes- it's a nice size.
Add pitted green (Kalamata are great) deli olives (fresh, not canned!), chopped into smaller pieces. Then add as much feta cheese as it takes to mix it well throughout the salad, without scrimping.
Dressing:
1/2 cup olive oil
1/3 cup apple cider vinegar (balsamic vinegar is good, too, but most have sulphites in them- more power to you if you find one that doesn't!)
A good squirt of Dijon mustard or a 1/2 tsp. of mustard powder
1 tsp. Italian seasoning (or half each of basil and oregano)
a few cracks of a pepper grinder
1/8 tsp. sea salt
1 clove garlic, pressed
Put in a glass jar, then shake, shake, shake. Pour over the salad, mix well and devour.